The first recorded use of the word "cocktail" to mean a mixed drink was around 1806 in The Balance and Columbian Repository. Now, it is defined by Merriam-Webster as "an iced drink of wine or distilled liquor mixed with flavoring ingredients." So the origins of the word are pretty well nailed down, but the origins of the different cocktails are often murky at best.
The Old Fashioned
If you're a fan of the TV show "Mad Men" the first image that comes to mind when you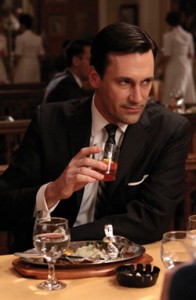 hear "Old Fashioned" is probably that of Madison Ave. ad exec Don Draper, who has become inextricably linked with the cocktail in modern times. You can even go to AMC's "Mad Men" website to get the recipe, along with a collection of recipes for other '50s-era drinks.
But the Old Fashioned goes much further back than the 1950s. In fact, it may have been around in one form or another as early as 1906, when the word "cocktail" was defined as "spirits, bitters, sugar, and water," a mixture that's quite close to the recipe for an Old Fashioned. It's hard to pinpoint an exact date, but we do know that the cocktail was very popular in the late 1800s to early 1900s.
The drink has been tinkered with over the past 100 years (muddled fruit, anyone?) but the classic recipe is pretty straightforward, with no extras or flourishes – a bit old-fashioned, if you will.
How it's made:
2 oz. Bourbon
3 dashes of Angostura bitters
1 cube of sugar
Water
Ice
Lemon or orange peel
Place the sugar cube in an old fashioned glass (or short tumbler). Soak the cube with several dashes of bitters, add a bar spoon of water and muddle. Fill with ice and add bourbon. Twist a thin lemon or orange peel over the top.
Where the name came from:
First known as a "whiskey cocktail," the drink evolved into something different as bartenders started changing up the cocktail and adding extra ingredients.  As a result, purists started requesting whiskey cocktails "the old-fashioned" way.
Tom Collins
The Tom Collins, a sweet, fizzy concoction, was heralded as the drink of summer in the 1930s. The first mention of the drink was in an 1876 bartenders' guide, but it may have originally been inspired by the John Collins, a gin punch, which was popular a bit earlier. Nowadays, however, a John Collins is usually a Tom Collins made with whiskey.
Over the years, the drink became so popular that people looked for ways to make mixing it a bit easier – the recipe calls for real lemons, after all – so the Collins mix was invented, much to the horror of purists. These days, if you order a Tom Collins, you're likely to get a drink made with sour mix. Try this classic recipe instead.
How it's made:
1 1/2 oz. Gin
1 oz. Lemon juice
1/2 oz. Simple syrup*
Club soda
Maraschino cherry and lemon slice for garnish
Add the lemon juice, simple syrup and gin to a shaker and fill with ice. Shake well and strain into a highball  or Collins glass (a tall glass) filled with fresh ice. Top with club soda and garnish with a lemon wheel and a cherry.
*Simple syrup is half sugar and half water. Melt the sugar in boiling water, and then cool.
How it got its name:
The drink got its name from a prank that became we would call "viral" in the Internet age. In the 1870s, it was considered the height of wit to say to an acquaintance: "Have you seen Tom Collins?"
Upon which said acquaintance would say no, and would add, in fact, he had never met Tom Collins.
Then you would tell the acquaintance that Tom Collins was in a bar down the street and had been what we would describe today as "trash-talking" about him. At which point he would go off in a huff to the bar to confront the cheeky Tom Collins.
Except he didn't exist. Seriously, this was a thing. In fact, it was so popular, that it became "The Great Tom Collins Hoax of 1874."
According to the story, one bartender had the idea to mix up a drink and dub it – you guessed it — The "Tom Collins." When the aggrieved party came into the bar and asked for "Tom Collins," he would unwittingly have ordered a mixed drink.
The Margarita
The Margarita's origin is difficult to trace. Several stories in circulation purport to explain the popular tequila drink's history:
It was invented in a Tijuana restaurant in the late 1930s by Carlos "Danny" Herrera for showgirl Marjorie King, who was allergic to all alcohol – except tequila;
Or American socialite, Margaret "Margarita" Sames, claimed to have created the drink at her vacation home in Acapulco in 1948. The only problem is that Jose Cuervo ran ads for Margaritas as early as 1945, three years before Sames claims to have created the cocktail.
Or perhaps, as another story goes, it was created by Danny Negrete at the Garci Crespo Hotel for his sister Margarita's wedding.
Or was it invented at Tommy's Place in Juarez, where, when a woman asked for a "Magnolia," the bartender couldn't remember the ingredients, so he faked it and threw together a drink that included tequila and Cointreau. Then he named it after a different flower, the daisy – or the "margarita" in Spanish.
How it's made:
2 oz. Silver tequila
1 oz. Cointreau
1 oz. Lime juice
Lime garnish
Rub a cocktail glass rim with lime juice and dip in coarse salt. Shake the tequila, Cointreau and lime juice together with cracked ice, then strain into a chilled cocktail glass. Garnish with a lime
How it got its name:
Take your pick.
♦
Next: Learn about the origins of the Daiquiri, Gin & Tonic, and Cosmopolitan!