Did you know that Chardonnay is the world's most popular white grape varietal?
Originally from France, Chardonnay grapes are now grown in nearly every wine producing region of the world! The diverse landscape of the Chardonnay grape means that the flavor profile can be drastically different from country to country.
There are two distinct ways to age Chardonnay wines: in oak barrels or stainless steel tanks.
Chardonnay is often aged in new oak barrels which gives the wine its oaky and vanilla flavors. Oak barrels have vanillin in the wood which is why Chardonnay often features such distinct vanilla notes. However, Chardonnay can also be fermented in stainless steel tanks. This is referred to as "unoaked." An unoaked Chardonnay will feature a much more acidic flavor profile and has a fresher finish.
The flavor profile of the Chardonnay is influenced not only by how it is aged, but by the region the grapes are grown in. Flavors range from green apple, pears, and melon in cooler climate regions and tropical fruit flavors in warmer climate regions. Chardonnay also has the ability to improve with age.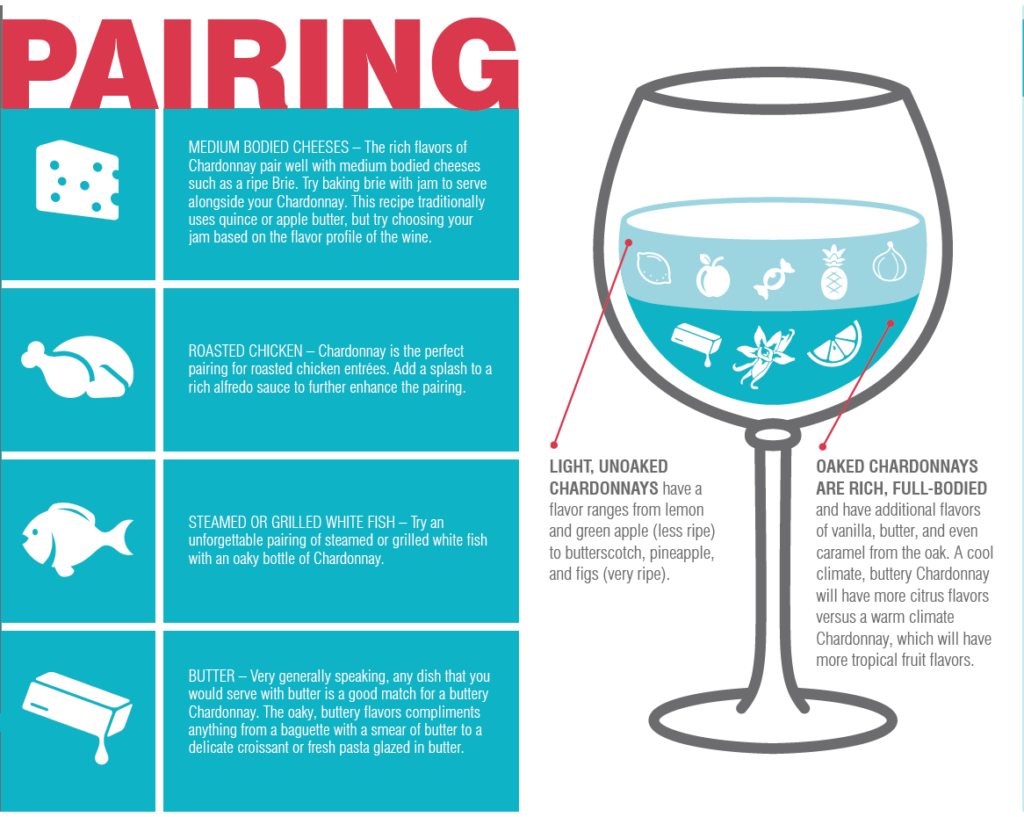 Regions:
Chardonnay grapes are grown world-wide, but the following four countries are often considered the most popular.
Australia: The Chardonnay grape is the most widely grown in Australia and is grown all throughout the continent! Since the climate is so diverse, the flavor will vary based on the origin of the grapes.
Chile: Most people think of Carmenere when they think of Chilean wine, but Chardonnay from this region is equal in popularity. Chardonnay from Chile can be oaked or un-oaked, but are generally medium bodied, clean, and fresh-tasting.
France: The country that started it all! Chardonnay grapes originated here and are still grown in many regions, most notably in Burgundy. Also, these grapes are used in the production of another French classic: Champagne.
United States: Chardonnay grapes first took root in California vineyards in the 1940's, and it's massive popularity led to becoming one of the first varieties grown east o the Rocky Mountains. Today it is produced throughout the United States, including right here in New Hampshire.
Give an herb and Chardonnay granita a try!
1 cup water
1/3 cup white sugar
4 sprigs rosemary
5 ounces Chardonnay
1 splash freshly squeezed lemon juice
Bring water, sugar, and rosemary to a boil. Turn off heat, cover, and let stand. When cooled and infused with the scent of rosemary, stir in wine and lemon juice. Freeze in container for at least three hours, stirring often as it solidifies. Serve garnished with a sprig of rosemary. Serves 2.