There's really no other beverage on earth that is as festive as a glass of sparkling wine. It is the epitome of celebration and good cheer. Since sparkling wines are produced in many of your favorite wine regions around the world — the most famous being the Champagne region of France — we hope this primer will help you find your next special bottle.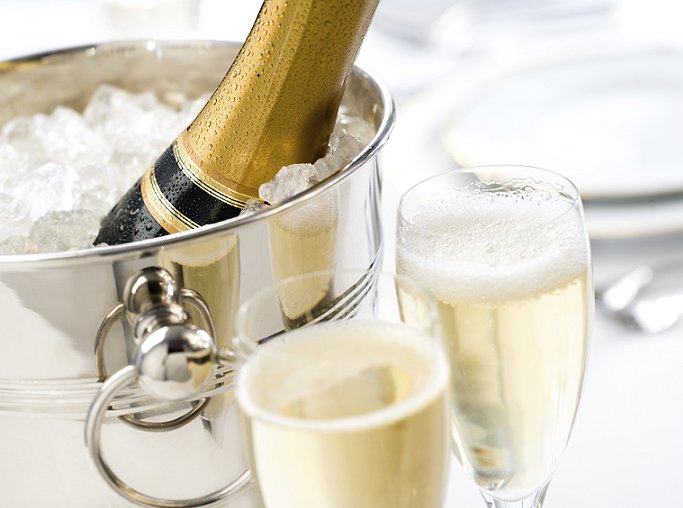 All Champagne is sparkling wine, but not all sparkling wine is Champagne. While many consumers consider anything with bubbles to be Champagne, there are many more styles of sparkling wines to consider from around the world including Italy, Spain, United States and of course, France. Champagne is a region in France. Any sparkling wines made outside of this region anywhere within the European Union, cannot be called Champagne. Sparkling wine is a carbonated wine that is usually named after the region where it is produced using one of several methods. The most famous, and the method that makes Champagne, is called Méthode Champenoise (Champagne method).
In this blog, we have summarized the different types of Sparkling Wines from around the world to help you choose the perfect bottle for all of your occasions.
Cheers!
Perfect Pairings
DEMI-SEC CHAMPAGNE – Strong cheeses like brie, fresh fruit and seafood in a light sauce.
ASTI SPUMANTE – Spicy dishes including Asian, panettone, wedding cake, chutney with cheeses.
PROSECCO – Prosciutto-wrapped melon, sushi, goat cheese, spiced nuts, and dates with cream cheese stuffing.
CAVA – Brie, shellfish, paella, risotto, apples and pears.
BRUT CHAMPAGNE – Parmesean-Reggiano or Piave cheese, earthy mushroom dishes, shellfish (lobster, crab, oysters and clams), cheese fondue, Gougère (cheese puffs) and just about everything else!
Delicious Recipes
CLASSIC CHAMPAGNE COCKTAIL
Drop 1 sugar cube with a few drops of Angostura bitters into a Champagne flute, and slowly top with Champagne.
APEROL SPRITZ
Mix 1½ oz. Aperol, 2 oz. sparkling wine, and 2 oz. sparkling water in a large wine glass. Garnish with a slice of blood orange and serve with a straw.
Distinct Regions
France
Champagne is produced using the Méthode Champenoise in the 5 wine-producing districts of the Champagne region of France. This process entails wine undergoing a second fermentation inside the very bottle you end up purchasing. The only grapes used in the production of Champagne are Chardonnay, Pinot Noir and Pinot Meunier in various combinations depending on the Champagne "House" style.
Italy
There are several types of sparkling wines made in Italy. The world has fallen in love with Prosecco, made in the northeast of Italy from the Glera grape. Though Prosecco can be made in a "Brut" style like most Champagne, traditionally these wines are "Extra Dry," that is to say, slightly less dry than Brut. They are somewhat light in body and easy to like. There are also sparkling wines made in the classic Champagne method that use other varieties; these are usually labeled Metodo Italiano. Asti is a town where sparkling wines are made solely with Moscato grape and are sweet and festive and are often considered the classic "wedding cake" wine.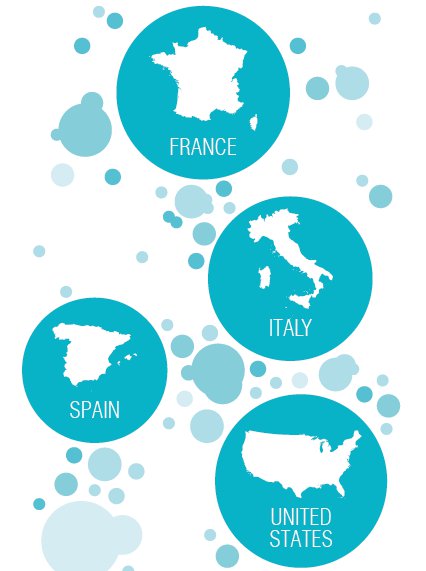 Spain
Cava is Spanish sparkling wine made using the Méthode Champenoise. Cava is full-bodied and dry, and excellent paired with food. The wines are made from indigenous varieties within Spain and represent arguably one of the best values in world sparkling wines.
United States
American sparkling wine producers often produce cuvees of sparkling wine made from the traditional Champagne grapes, Chardonnay, Pinot Noir and Pinot Meunier. These sparkling wines are often made using the Méthode Champenoise. Although created in California's Russian River Valley, far from the Champagne region of France, of France, some American sparkling wines are permitted to be referred to as Champagne. An example of this is Korbel.
Open a Bottle of Champagne
Make sure the bottle is chilled to 50–55 degrees, or about 40 minutes in the refrigerator. Take off the foil wrapper and carefully remove the wire cage that secures the cork, keeping your hand firmly on top of the cork to make sure the cork doesn't fly off. While continuing to push down on the cork, lean the bottom of the bottle in your other hand at a 45° angle (away from
people, pets, and valuable belongings)! While still pushing on the cork, twist the bottle clockwise with one hand to ease the cork out. You shouldn't hear a big pop when you open the bottle, just a gently release of carbon dioxide and a wisp of "smoke." Pour slowly into fluted glasses and enjoy!