There's a reason we don't have beer and a peanut butter and jelly sandwich or Cabernet Sauvignon with our scrambled eggs. Though you don't need to be an expert to figure out those, a little insight on how to pair wines with food can go a long way to making your meals taste great.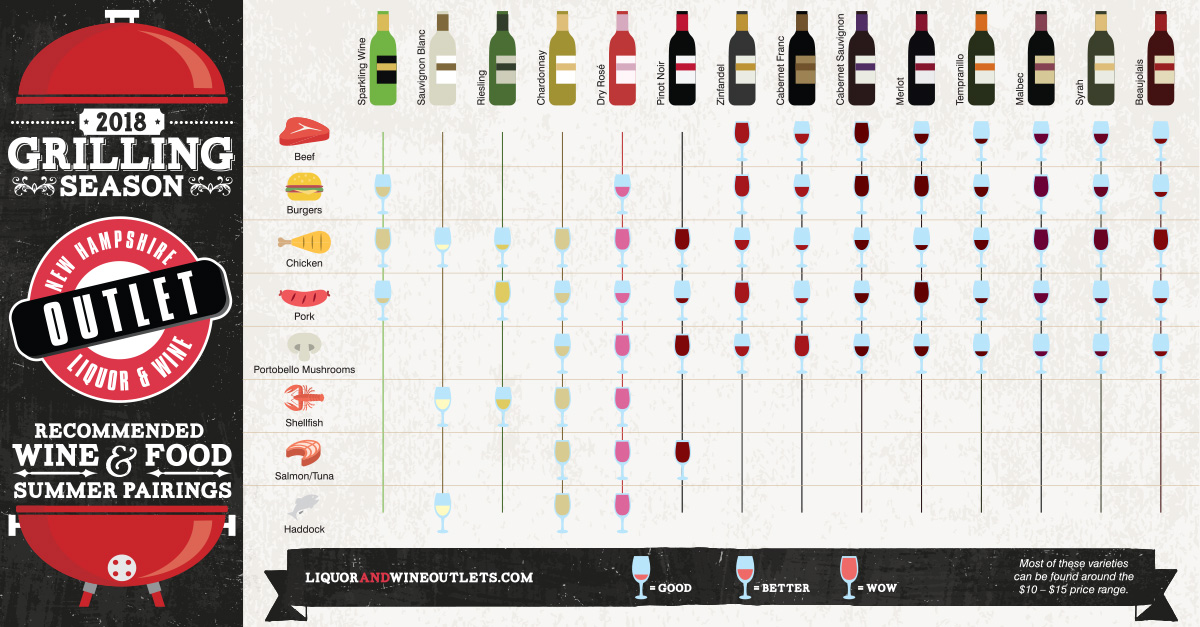 If you've ever had a perfect wine and food match, you will likely understand that each component makes the other better. This is why it's possible to enjoy a wine at a restaurant but sometimes feel differently about it when purchased from a store and brought home for dinner. Aside from the emotional experience, sometimes wines just don't taste as good without the best food for them. Restaurants tend to do this well, but what about the home cook preparing a special meal for friends?
Here is a brief guide for pairing wines with typical New England summer foods that will make you look like a pro and leave your guests pining for your next invitation!
Dry Rosés
You don't have to be a Francophile to love the rosé wines from France. I like them in particular because they are made mostly of the Grenache grape, which has refreshing and vibrant acidity as well as flavors like strawberry and raspberry. These wines are very food friendly but can also be enjoyed on their own, though probably not with a peanut butter sandwich
Classic food pairings:
Appetizers like tapenade, patés and terrines are a perfect match. Cold or room temperature pasta salads, and salads with a protein in them such as chicken also work well for a first course.
White Wines
Sauvignon Blanc (France in particular, as well as USA and Chile), Albarinio (Spain), and Vermentino (Italy).
If you enjoy shellfish, these wines are among the best for pairings. In particular, whites from the Loire Valley in France are a terrific match. Sancerre and Pouilly Fume are made entirely of the Sauvignon Blanc grape and both have a decisive high-acid and fruit forwardness that is the perfect foil for the saline quality of shellfish. Albarinio (Spain) and Vermentino (Italy) are also shellfish friendly wines and offer tremendous value.
Classic food pairings: Oysters, clams, shrimp, mussels in white wine.
Chardonnay
Unless you are a chartered member of the ABC Club (Anything But Chardonnay), the world's leading white varietal did not get there without universal appeal. For lobster, especially served with melted butter, full-bodied Chardonnay is a perfect match. Lobster itself is more substantial than a clam, and for the same reason, wines with more substantiality usually pair better with it. The famous White Burgundy wines from France made from 100 percent Chardonnay offer a lean, high-toned acidic structure which may not sound good, but makes them some of the best food wines on the planet.
Classic food pairings: Lobster, roast chicken, creamed pasta dishes, roast pork.
Red Wines
Cabernet, Merlot, Bordeaux (France) Barolo (Italy), Brunello di Montalcino (Italy).
These are big "winter wines" but that doesn't mean we can't enjoy them with a perfectly grilled Porterhouse! For most other dishes though, these wines will likely seem too strong for most summer food. Be sure they are cool to the touch or the alcohol will feel very strong. This goes for all red wines. Twenty minutes in the refrigerator prior to opening is about right.
Classic summer pairings: Grilled steak such as bone-in porterhouse, New York strip, Delmonico.
Zinfandel, Malbec, Shiraz
These are wines with more fruit forwardness, a spicy quality and less mouth-drying tannins and a perceived slight sweetness. Because of these traits, these wines are excellent with barbequed foods, and particularly so if the food has smoky and spicy qualities.
Classic food pairings: Burgers, ribs, flank steak, fajitas, grilled pork tenderloin, grilled pizzas, smoked meats.
Pinot Noir
Pinot Noir dispels the age-old mantra of white wines only with fish. For instance, there is typically no better pairing for grilled salmon, swordfish, and blue or yellow fin tuna than this red wine. This is particularly true if the wines come from Oregon, New Zealand or Burgundy France (in which the latter is always made from 100 percent Pinot Noir). Pinots from California, Chile, and New York State tend to be more modern in style and are better matches for duck. If you are serving chicken and want to drink red wine, Pinot is also the way to go.
Classic food pairings: Grilled salmon, tuna, swordfish, or pork tenderloin; pastas with light red sauce; chicken, duck, or Cornish hens; grilled pork chops.
It's hard to go wrong with the tiki torches ablaze, some spirited music and an ice bucket with your favorite summer whites and rosés and a great summer menu. Let loose a little, and let the wines of summer cool down a hot summer night. Cheers!
This article originally appeared in the July issue of Celebrate NH magazine.