It is a well-known fact that at New Hampshire Liquor & Wine Outlets we don't have any taxes on our products, but New Hampshire has another unique aspect to our locations; Power Buy Wines!
Purchasing a Power Buy Wine is the best way to buy a great wine at a great price. If you love high-quality wine and low prices, then Power Buy wines are where you should look first when you walk into the New Hampshire Liquor & Wine Outlets. No other liquor store makes exceptional wine so affordable!
The Outlet Power Buys program brings the finest wines at all price points to our customers at unheard of savings – often up to 50% off. Additionally, New Hampshire Liquor & Wine Outlets often run sales a few times a year where a case of twelve or more Power Buy Wines earns an additional 15% off on the already low prices (be sure to check our sale page to find out when the next Power Buy Wine sale is going on!). These savings allow the customer to purchase premium wines affordably, for example, a $50 bottle of wine could end up as low as $25 or a $30 bottle as low as $15.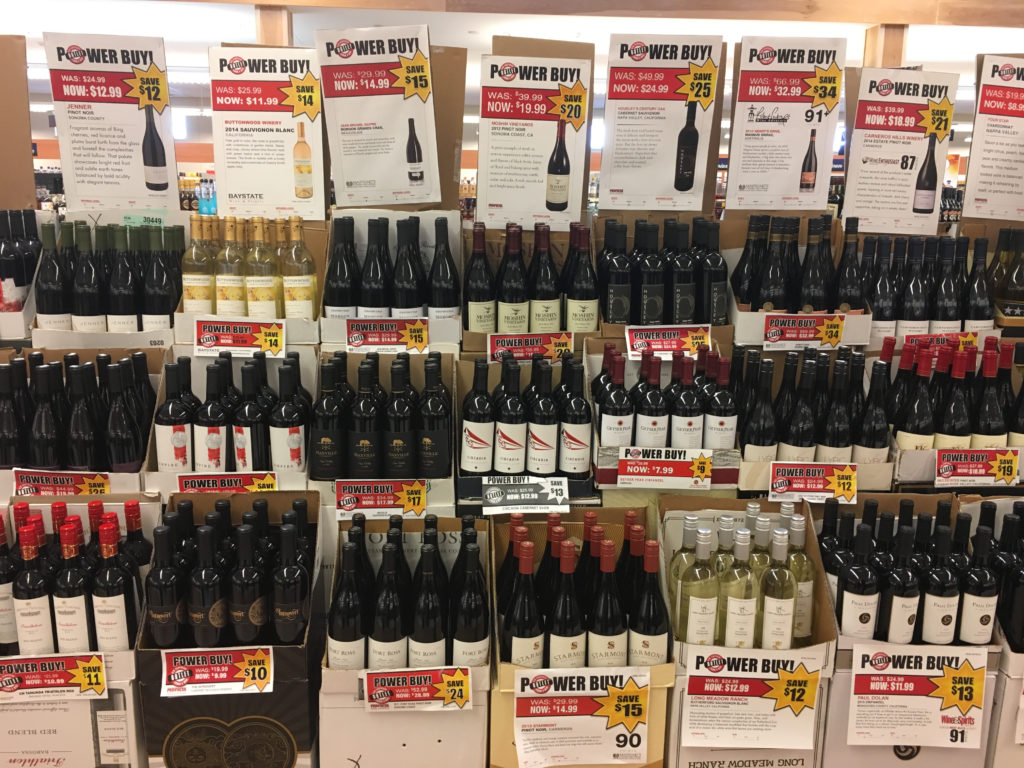 To make it even better, the wine is just as good as the price! Our wine buyer negotiates these values directly with the suppliers, and because the suppliers need to make room for new vintages, they are able to sell the wine to us at a very low price, meaning we can sell it to you at a low price too. This means Power Buys are all high-quality wines which will soon be unable to be found anywhere. Because of this, inventory is very limited on these one-time purchases, so once you find one you enjoy, stock up!
Power Buys are a great way to expand your wine horizons and try something new, yet high quality, without breaking the bank. If you want to try new types of wines, then exploring the Power Buy section at your local New Hampshire Liquor & Wine Outlet is your best bet. Additionally, all Power Buy displays include in-depth details about the wine, so that you can know exactly what it will taste like before you even try it. Power Buys exist in all varieties and styles of wines, from New Zealand Sauvignon Blanc, Napa Valley Cabernet, Italian Brunello, or even high-end Champagne.
Outlet Power Buys can be found in all of our stores, in a variety of selections and quantities. Please check the store inventory online for the availability of the item you are interested in. Power Buys are in high demand, so they often sell quickly. Don't miss out, visit your nearest New Hampshire Liquor & Wine Outlet today and explore your Power Buy options!