Let the New Hampshire Liquor & Wine Outlet help you plan and pull off a truly memorable occasion, whether you're hosting a wine tasting, cocktail party, or martini night with some of our helpful party planning tips.
For starters, you only need a few basic bartending items to look like a professional (items may vary depending on what you plan to serve): bottle opener, corkscrew, cocktail shaker, bar strainer, 1-1/2 ounce jigger, ice bucket, ice tongs, stirrers, coasters, and napkins. Having the right glasses available is important, but you don't need a special glass for each drink. Two basic shapes are adaptable for most drinks: on-the-rocks (with or without a stem) and basic wine glasses. Want to learn more about glassware? We recently hosted a live event with the Riedel team of experts. You can watch the replay here.
When planning a party, deciding how much wine or spirits to buy can be a daunting task. Follow this simple formula to ensure enough wine or spirits for your guests. First, determine the number of guests that will be attending. Next, take the number and multiply by the number of hours you think the party will last. This will give you the number of servings you'll need. Then, use the following chart to determine approximately how many bottles of liquor and wine you'll need.
DRINKS PER BOTTLES AND BOTTLE SIZE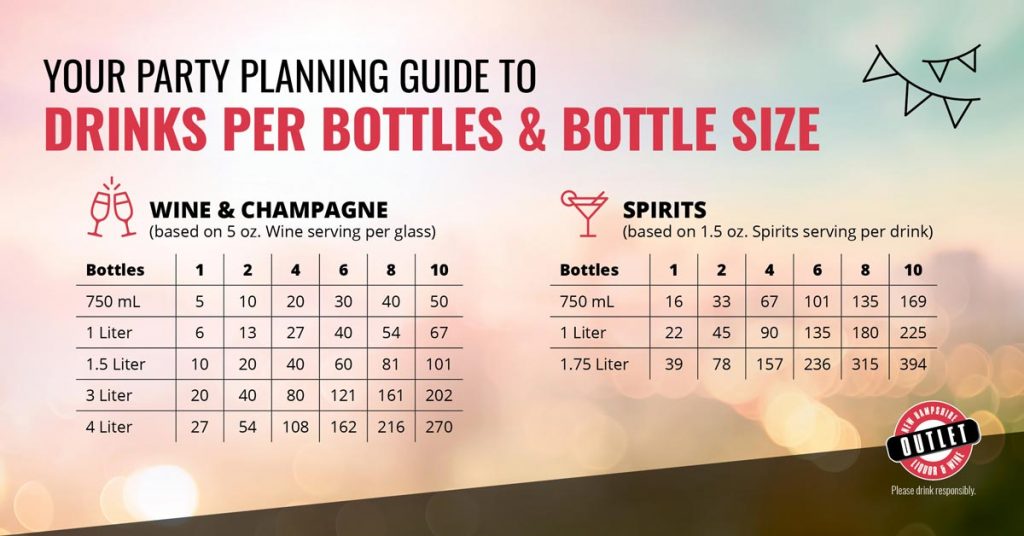 For example, a party of 20 people lasting 3 hours would require about 60 servings. For a wine tasting, a minimum of six 1.5 liter bottles would be recommended for this gathering. For spirits, about four 750 mL bottles would be recommended.
Of course, our helpful staff can assist you with your party planning needs at any of our outlet store locations. Connect with NH Liquor & Wine Outlet today for more party planning tips and information! And, as always, please remind your guests to enjoy responsibly.