In June, consumers who stop by one of our 78 retail locations have the opportunity to save 15% when they purchase 12 or more bottles of American wine, mixed and matched. While there are many great regions for wine production within the United States, most people think of California – specifically because it accounts for nearly 90% of US wine production. If you're planning a trip to California Wine Country here are our top six California wine destinations in the Sonoma and Napa areas .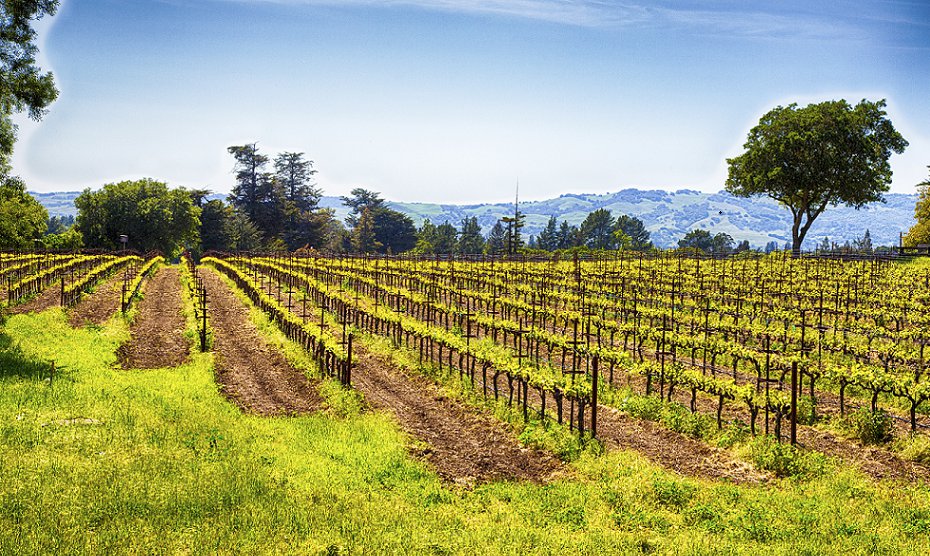 Start at Ferrari-Carano Winery in Sonoma County. The gardens there are breathtaking, and a must-see for sightseers, but the experience doesn't end there: a variety of tasting rooms and restaurants make this a place worth starting your trip. From there, you'll head to a more well-known winery, simply for the name recognition of its owner. Save $9 on Ferrari-Carano Cabernet Sauvignon through June 28.
Francis Ford Coppola's Coppola Winery in Sonoma's Alexander Valley is amazing, and a trip there is about much more than great food and wine. Of course, you can taste a wide variety of quality wines and enjoy lunch at the award-winning Rustic, Francis's Favorites. But where else can you find memorabilia from some of the most famous movies of all time as well as Academy Awards? We carry a wide variety of Coppola wines, many on sale through June 28.
We've been lucky enough to land some special deals from another Sonoma County winery, Copain Wine Cellars. Their wines aren't produced in large batches, but they are phenomenal. Copain is not a tourist attraction, although it's been named one of the top wineries to visit; you'll just need to call ahead to ensure you can be part of the experience. It's well worth it. Their Tous Ensemble 2012 Chardonnay in our Power Buy Program is usually $28.99, and is a steal for just $15.99 through June 28 (or while supplies last).
Your next step is inland to Napa Valley. Did you ever think you could ride a gondola outside of ski country? Visit Sterling Vineyards, where you must reserve a gondola ride to the winery atop Diamond Mountain and explore (assuming, of course, you're not distracted by the amazing views). At the top, you'll also be able to enjoy a wine tasting experience as well as an art gallery featuring works from Renoir, Chagall, and Picasso. It is an utterly spectacular experience. Sterling Cabernet Sauvignon is one of NH top selling Cabernets for just $19.99, a savings of $3.00 through June 28th.
Many wine lovers have seen Bottle Shock, which has contributed to some of the recent name recognition of Chateau Montelena. There's much more to it than that, though. This historic winery played a significant role in the growth of Napa Valley due to its 1st place win of their 1973 Chardonnay in the 1976 "Judgement of Paris" This visit is a wonderful experience, including the castle and Chinese garden. Save $10 on their Cabernet Sauvignon and $5.00 on their Chardonnay while supplies last.
The last stop on your six-winery whirlwind tour of Northern California is Silver Oak Cellars. This beautiful facility in Oakville with a historic tower seen from highway 29 is known for its wonderful wines (you can't miss the "Life is a Cabernet" license plate frames in California), but the lineup of tastings they offer includes much more than their Cabernet Sauvignon. Their experiences run the gamut from intimate tastings to larger parties, but either way it's worth adding to your itinerary. Again, you'll save $10 on their Cabernet Sauvignon  while supplies last.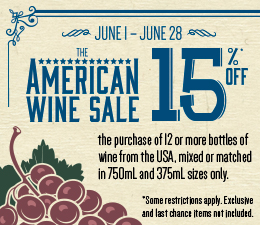 Of course, a trip to California's wine country isn't an inexpensive proposition, but the combination of sale prices and 15% off a mixed or matched case of American wines through June 28, 2015, might be the next best thing.
All prices referenced above are valid at the New Hampshire Liquor & Wine Outlets locations through June 28, 2015, or while supplies last.