As if the arrival of spring is not exciting enough, this month we are offering one of our most popular sales of the year! Receive 15% off the purchase of 12 or more bottles, mixed or matched, of Italian wines and/or spirits. (750 and 375ml sizes only).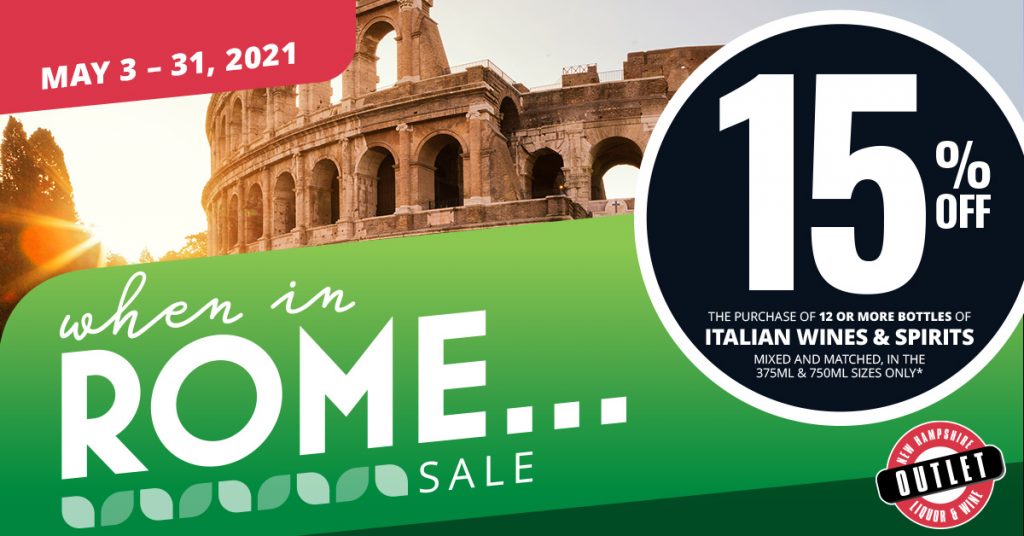 When in Rome…
The Italians know a thing or two about making wine and spirits, having more than 4,000 years of experience. They boast one of the most diverse winemaking nations in the world with literally thousands of varietals to draw upon, not to mention their legendary spirits, such as Disaronno, Amaretto, Frangelico, Sambuca, and Amaro to name a handful.
Vino Splendido!
Italy is home to a few of the world's most prodigious wines. Barolo has long been considered by many as one of the fullest bodied, complex reds anywhere on the planet and worthy of decades of aging. It is a laudable companion to a hearty steak meal that you might otherwise think to serve with California Cabernet or Bordeaux. Brunello di Montalcino sings its own song of success as the king of Sangiovese-based wines in Tuscany and is a massively dry, full-bodied wine which can also be aged for decades to mellow out its prodigious form. The Italians like to enjoy Brunello with a ragout of wild boar! Amarone, uniquely made in the northeast of Italy, while newer to the scene, has captured the hearts of many with its hedonistic, sleek, and intense qualities and is the perfect pairing for roasted or braised wild game.
However, Italy also boasts an ocean of affordable wines such as Pinot Grigio, Vermentino, Vernaccia di San Gimignano, Chardonnay, and Lugana along with many, many more white wines styles and blends. For reds, consider Cannonau (Grenache) from Sardinia, Nero d'Avola from Sicily, Valpolicella-Ripasso, Barbera, Dolcetto, and the very special wines from Mount Etna, and of course the plethora of wines grown under the Tuscan sun typically based on the Sangiovese grape. 
Savory Spirits
If you are not that familiar with Italian spirits, it's a great time to get on board. There are icons, such as Limoncello, Amaretto, and Campari, but there are also a host of decadent others to try. Frangelico is an explosion of hazelnuts that can be enjoyed neat, on the rocks, or in coffee. Amaro is its own great adventure, with each producer having their own unique expression of this bittersweet concoction that makes the perfect digestivo after a big Italian feast. Sambuca is like drinking liquid black licorice and is terrific added to an after-dinner coffee. Compari and a few other ingredients make the gorgeous, orange-hued drink you see on almost every table in any outside bar in Italy and will leave you instantly hooked on its otherworldly charm.
We have an incredible amount of Italian Wines and Spirits on sale this month and that's before the 15% discount overall if your selections qualify for the sale! 
Come on in! We'd love to help you find some Italian gems. Connect with NH Liquor & Wine Outlet today to find your nearest store and stay up to date on all of our sales and promotions.
Salute!