The holidays always bring good tidings to grocery retail sales. There's an increase in social gatherings and consumers have been waiting all year for those special limited-time offers! Grabbing the consumer's attention is key to making a sale. Did you know that 70% of consumer decisions are made while shopping in stores? Not everyone plans their purchase before arriving at stores, so impulse shopping is a real factor in your sales numbers. POS holiday displays create the perfect opportunity for grocers to capitalize on increased sales for wine.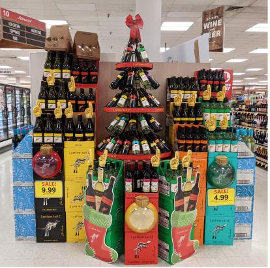 Wine sales have increased considerably. Consumers are turning to grocers for a one-stop shop. Wine brands have seen a 17.5% growth in sales over the past year and a half. Customers want to be guided to the best holiday sales, classic holiday wines, and special displays that showcase how unique your store really is! One way to ensure increased sales is to use accessories you currently sell in your store to decorate. Selling festive holiday wine glasses? Add them to the display. Have elegant cocktail napkins or seasonal place setting? Add those too. Creative merchandising, like placing cheese pairings near your display, is a great way to boost sales.

A study by the Advertising Research Foundation has proven that a simple POS display like a table-top display can increase sales by 12%-27%. An inflatable, digital, or more eye-catching display can increase sales by 40%. If a POS display is holiday-themed, it can increase sales by over 65%.
Get in the holiday spirit this year by showcasing a creative display and watch your average ring increase—along with your profits!