In honor of our Cheurlin Champagne sale, we're going to walk you through what each item on the labels means!
Cheurlin Brut Spéciale – Code 32336
Labels in general offer some information about the product in the bottle. In the case of Cheurlin Brut Spéciale, 1788 represents the origin of the Cheurlin Family when a catholic priest named Cheurlin first began making champagne for his family. The current generation of the Cheurlin family continues the hands-on approach of their ancestral founder more than 200 years later, producing stellar Champagne and partners with the legendary Isiah Thomas of NBA fame.
The Cheurlin family uses only three grape varieties in their products; Chardonnay, Pinot Noir, and Pinot Blanc, the latter, amounts to less than .5% of plantings in all of the Champagne region. They grow their grapes in the region of "Aube."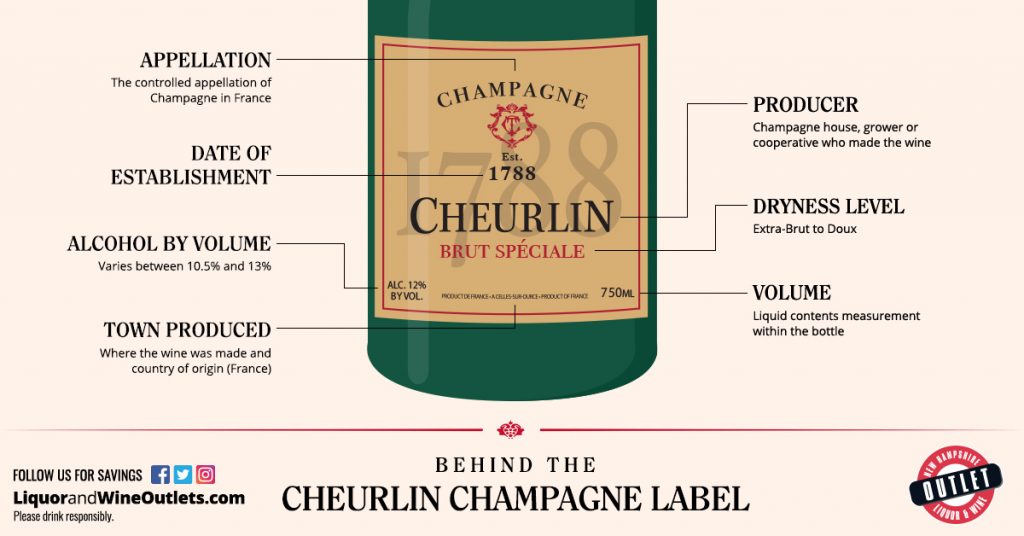 The word "Brut" generally signifies the dryness level of champagne. The Cheurlin family prides itself on producing their Champagnes with less residual sugar than most other Champagne Houses. Brut can legally have up to 12 grams per Liter of residual sugar and often is that amount. Cheurlin Brut Spéciale makes theirs with less than 6 grams per liter, which are quite dry. It is a blend of 70% Pinot Noir and 30% Chardonnay leaving out the standard workhorse Pinot Meunier – a lesser quality grape typically used in other producer's cuvées.
The word "Champagne" on the label means it was made in the traditional Champagne method or "Method du Champenoise" – an involved process that creates a second fermentation in the actual bottle you end up purchasing.
ALC 12% by VOL (alcohol by volume) is 12% for the Brut Spéciale.
750ml denotes the liquid measurement of the product inside the bottle. 750ml is roughly equal to 25.4 liquid ounces of 5ish, 5-ounce glasses.
The product of France authenticates the Champagne is of French origin.
Rosé de Saignée – Code 32337
A rare affordable Champagne made entirely of the noble grape Pinot Noir.
Saignée is the "Old World" method of "bleeding" off the juices during fermentation, producing far greater results than the more common way of adding red to white wine. It is a wildly beautiful color that has aged for 30 months and produces a stunning and sophisticated Champagne worthy of any celebration.
Its "Dosage" (added sugar level) is very low, at under 8% g/L (grams per liter).
Cheurlin Thomas "Célébrité" Blanc de Blanc – Code 32340
Blanc de Blanc (white of whites) essentially means there are no red grapes used in the bottling. Blanc de Noir (white of black) would mean the opposite: made with red grape(s) and no white varietals.
Extra Brut
Extra Brut is the term given to a Champagne that adds zero sugar; or no dosage.
A stunning Champagne made with a blend of 60% Chardonnay and 40% Pinot Blanc that adds ZERO sugar (no dosage) and is bracingly crisp and vibrant on the pallet. It is aged for 24 months prior to release. A wondrous bottle if there ever was one.
Cheurlin Thomas "Le Champion" – Code 32339
The pinnacle Champagne from this house is "Le Champion" made from 100% Pinot Noir and aged for 24 months with a dosage of less than 8g/L. It is a flawless Champagne made for serious connoisseurs and refined celebrations. It is the recipient of many awards and considered one of the finest Champagnes produced.