In May, the United States for the first time surpassed France as the largest wine market in the world. According to the International Organisation of Wine and Vine (OIV), U.S. consumers purchased 29.1 million hectoliters (more than 768 million gallons) vs. 28.1 hectoliters (more than 742 million gallons). To illustrate the difference, 26 million gallons is more than 131 million 750 ml bottles of wine, which could fill almost 40 Olympic-size swimming pools. That's a lot of wine. It's hard to remember a time when wine wasn't as popular as it is now and America didn't produce great wines. That all changed some 40 years ago at the "Judgment of Paris" where, in blind tasting, American wines – 1973 Stag's Leap Wine Cellar's S.L.V. Cabernet Sauvignon and a 1973 Chateau Montelena Chardonnay − took first place for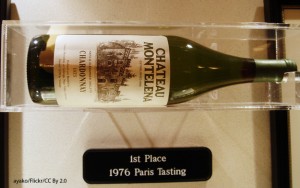 red and white respectively, beating out their French counterparts. That was a very big deal in the wine world and it put Napa wines on the map. (BTW: If you'd like to learn about the "Judgment of Paris," watch "Bottle Shock," a fictional – but based on fact – account of the event. A second movie, "Judgment of Paris," is reportedly in the works). America now produces some of the finest wines in the world at more than 8,000 wineries. Wine production in the U.S. has become a $36.3 billion industry. Check out these quick facts about American wine:
Ninety-five percent of U.S. wine is made in four regions. California wines account for five times as many as the next three largest producers: Washington, Oregon and New York.
♦
According to the Wine Institute, if California was a nation, it would be the fourth-leading wine-producing country in the world.
♦
Chardonnay is the most popular of the white wines made in California; Cabernet Sauvignon is the most popular of the reds.
♦
E. & J. Gallo Winery is the largest winery in not only California, but in the world.
♦
There are about 75 grapes in a 5-ounce glass of wine.
♦
The most-produced white varietal in Washington is Riesling.
♦
The biggest winery in Washington State is Ste. Michelle Wine Estates.
♦
Oregon is known for its Pinot Noir.
♦
The largest wine producer in Oregon is King Estate Winery in Eugene.
♦
According to the Wine Institute, the average American consumes 2.73 gallons of wine per year. You can just about fill two soccer balls with that amount.
♦
In the 16th Century, Dutch and Huguenot settlers in New York were the first in the U.S. to grow grapes for wine.
♦
The most expensive bottle of U.S. wine sold to date was a 1992 Screaming Eagle Cabernet for $500,000 at a charity auction in 2000. Today, you can get a 2010 Screaming Eagle Cabernet for a cool $2,700.
♦
We've got a wide variety of American – and imported – wines at prices that fit every pocketbook. Check out our selection!