There's little doubt gin is a classic. Any spirits aficionado can tell you gin is a crucial component of a dizzying array of many timeless mainstays of the cocktail landscape, from a Tom Collins to a Gimlet, from a Negroni to an old-fashioned Gin and Tonic, and all the way down to the universally known Martini. It's a spirits favorite, in other words, that's derived much of its popularity from the way its unmistakable yet versatile flavor profile – that fresh, piney essence is juniper berries – compliments some of the most well-known drinks in bars all over the globe.
For a time, gin's presence became so widespread that its popularity waned. Some spirits enthusiasts simply tired of the cocktails of which gin was a part, while others had negative experiences with gin of inferior quality. While the majority of the most acclaimed gin is crafted using pot or column distillation, which involves several steps and the infusion of carefully selected natural flavoring botanicals, other kinds of gin commonly called compound gin, are made without distillation by quickly combining commercial grade neutral alcohol and flavoring juniper essences or oils. Compound gin is, in most all circumstances, of significantly lesser quality.
While the aforementioned circumstances led to gin temporarily losing something of its appeal, it seems that as of late the spirit is making a considerable comeback. At the heart of this resurgence are two factors. First is the emergence of gin brands no longer content to build a flavor profile featuring only the standard juniper essence; instead, many gin distillers, embracing the movement toward craft distilling, are favoring complex, balanced blends of flavor with both juniper as well as a variety of other tantalizing botanicals. Floral notes like lavender and hints of citrus fruit are becoming more common, as are spices like coriander and sage.
As distillers are embracing a craftcentric approach, so too are bartenders, who are exploring flavorful new ways to approach classic cocktails as well as innovations of their own. Whether they're exploring the old or the new, bartenders can work easily with gin, which is versatile on its own and is even more desirable in many cases when it features complex botanical notes. These notes play well off of other house-made syrups and natural flavorings that are becoming go-to elements for any discerning drinkmaker. Those who may have not enjoyed gin in the past, or the cocktails in which it was utilized, have new, flavorful options that are perfect for summer – or any time of year.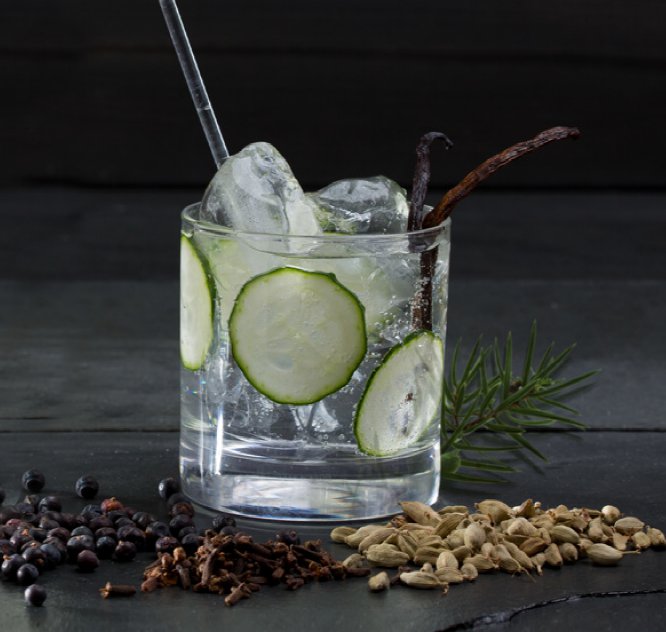 The New Botanical Blends
Here's a look at a few of our favorite brands – available at your favorite New Hampshire Liquor and Wine Outlet – leading the expansion of the botanical blends and the resurgence of gin, as well as some enticing cocktail recipes you can try the next time you're seeking a fresh take on this classic spirit.
Hendrick's Gin
Hendrick's Gin is one of the gin makers at the forefront of the movement toward more balanced botanical flavors. Its flavor profile includes flowers, roots, fruits, and seeds across the globe, including the Bulgarian Rosa Damascena and specially selected cucumbers from the finest available producers. The combination of these flavors and Hendrick's complex distillation process generates a subtle, balanced flavor and an extremely smooth finish. Bombay Sapphire East Gin Bombay Sapphire goes to unique lengths to produce its legendarily balanced and flavorful gin, using a vapor infusion process and 10 precious botanicals including lemon peel, grains of paradise, coriander, cubeb berries, orris root, almonds, cassia bark, liquorice, and angelica.
Now through September 7, 2015 you can purchase Hendrick's Gin in the 750mL bottle on sale for $29.99.
St. George Terrior Gin
St. George Spirits calls its Terroir Gin an ode to the wild beauty of California. It is possessed of a complex blend of botanicals that produce aromatics that make you feel like you've been transported to the towering western forests. You'll enjoy dueling scents of Douglas fir, California bay laurel, coastal sage, and other evocative botanicals.
Now through September 7, 2015 you can purchase St. George Terrior Gin in the 750mL bottle on sale for $29.99.
Uncle Val's Botanical Gin
For a small-batch, Tuscan-inspired botanical gin, try Uncle Val's. The botanicals – including not only juniper, but also cucumber, lavender, lemon, and sage – are not only Uncle Val's favorite cooking ingredients, but also make for an exceptionally unique, smooth and delicious gin.
Now through September 7, 2015 you can purchase Uncle Val's Botanical and Peppered Gin in the 750mL bottle on sale for $39.99.
Karner Blue Gin
Karner Blue Gin is a local favorite, produced at one of the few distilleries in New Hampshire. It's also distilled from crisp, delicious New Hampshire apples and steeped with nine botanicals, including juniper, citrus, orris root and cubab berries. The final result is a gin that's richly complex and memorably sweet.
Now through September 7, 2015 you can purchase Karner Blue Gin in the 750mL bottle on sale for $29.99.
Death's Door Gin
Death's Door Gin is a simple but powerful gin with botanicals that include juniper berries loaded up front; spicy, citrusy notes from the coriander seeds in the mid-palate; and a soft, cooling finish provided by the fennel seeds. It's sourced and prepared within Washington State for a gin that's enjoyable on its own or within a wide variety of new twists on classic cocktails.
Now through September 7, 2015 you can purchase Death's Door Gin in the 750mL bottle on sale for $25.99.
Aviation American Gin
Aviation Gin employs an especially expansive variety of botanicals, seeking to build a taste profile that's less juniper-forward than traditional gins and more reliant upon a complex depth of flavor. In just one sip you'll detect traces of many botanticals from the Pacific Northwest, like anise seed, cardamom, coriander, elletaria lavender, Indian sasparilla, juniper, and dried sweet orange peel.
Now through September 7, 2015 you can purchase Aviation American Gin in the 750mL bottle on sale for $26.99.
This article originally appeared in the July 2014 issue of Celebrate NH magazine.