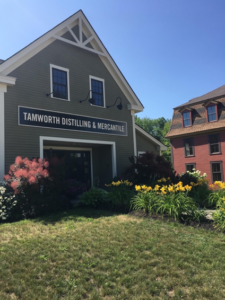 Welcome to Tamworth New Hampshire, home to the Barnstormers Theater, a gateway to the White Mountains, beautiful Chocorua Lake, and one of the newest distilleries in New Hampshire, Tamworth Distilling. Opened in the summer of 2015, Tamworth Distilling is quickly becoming a household name in New Hampshire and all-around New England. Their spirits, including everything from traditional White Mountain Vodka to their more unique Eau De Musc Castoreum Flavored Whiskey, are 100% scratch-made, using only ingredients from within a 200 mile radius. Because of this, their spirits are quite literally, the taste of New Hampshire.
Tamworth Distilling was started by Steven Grasse, who had been in the liquor industry for decades and was looking for a way to return to New Hampshire and start his own craft distillery. Grasse, a lover of history, especially Emerson and Thoreau, chose to start his distillery in Tamworth because of the town's rich history and love of tradition. The culture of Tamworth was ideal, but so were the natural resources. Tamworth Distilling gets all of its water from the Ossipee Aquifer meaning it's naturally filtered and kept under layers of granite. Because all spirits are 90% water, the water which is used in the distilling process is crucial for the overall taste of the product! Additionally, Tamworth, which is in the Lakes Region, is home to many farmers, growers, and producers, which the distillery needs to flavor and produce its spirits.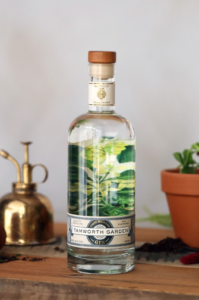 These local flavors allow Tamworth Distilling to be creative but also authentic. All of their spirits are inspired by what the local farmers are producing and what season they are in. Years ago, spirits were an agricultural product just like anything else, people made what they could with what ingredients they had in the area. There was a season for every product, and Tamworth Distilling uses this traditional method even today. They also use the natural landscape for not only inspiration, but for flavors. For example, their Black Trumpet Blueberry Cordial is made with blueberries and trumpet mushrooms which naturally grow together in the wild. Tamworth Distilling firmly believes that "what grows together, goes together" and so it's no surprise that the combination of flavors in their spirits always mesh together smoothly. Tamworth Distilling's spirits are just as unique as the methods from which they stem, from chicory roots to apples, there is no shortage of possibilities in Tamworth! No matter a person's preferences, they are sure to find something both surprising and pleasing at the distillery.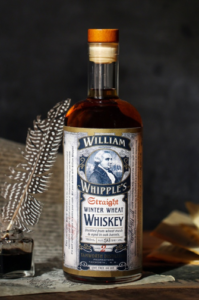 At Tamworth Distilling it's not about bulk and mass-production, it's about tailored quality. This philosophy doesn't just apply to their spirits, but their work as a whole. Tamworth Distilling focuses on building relationships with people throughout the state, choosing to "dig deep and not wide". Tamworth Distilling isn't only dedicated to producing exceptional spirits but also to giving back to their community and New Hampshire as a whole. This starts first by their determination to never waste anything. Many of their spirits are produced using by-products and re-purposing ingredients so that nothing is ever wasted. In fact, all their spent grains either end up being fed to local farm animals or as bread at a bakery down the road. The distillery also supports local efforts in the community, for example, one dollar of every bottle of their Barnstormers Punch goes to support the theater and every bottle of Chocorua Rye Whiskey sold donates a dollar to the Chocorua Lake Conservancy. This means when customers purchase their products, they aren't just supporting the distillery, but positive work in the state as a whole.
Since many of their spirits are now carried in all the New Hampshire Liquor & Wine Outlets, Tamworth Distilling has seen a huge growth in their sales. Their relationship with our stores has been overwhelming positive, allowing them to expand their listings and build relationships all over the state. Additionally, we often host Tamworth Distillery so that they can offer in-store tastings to customers.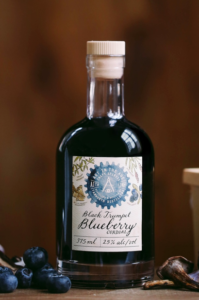 With so much having already been accomplished in the mere three years they've been open, it's hard to imagine what could be next for Tamworth Distilling. But, plenty still lies ahead! They currently have over 11,000 gallons of spirits aging which will soon be released and, of course, many new spirits on the horizon!
To learn more about Tamworth Distilling visit their website and to view the products sold at the New Hampshire Liquor & Wine Outlets visit our website.