After nearly 50 years, we can all rejoice that the historic, sparklingly and super-refreshing Moscow Mule is not only back in style, but is enjoying a whopper of a resurgence.
There are two parts to this iconic libation. It's made with vodka, spicy ginger beer, and lime juice while garnished with a slice of fresh mint and a wedge of lime. It sizzles with bubbles of delight. But here's the fun part: A Moscow Mule is traditionally served in a battered copper mug, frosty cold and ever-so-unique.
Moscow Mule Recipe
– 1 1/2 oz. vodka
– 4 oz. ginger beer
– Squeeze of lime
– 1 slice lime
In a copper mug, pour vodka over ice. Add lime juice. Top with ginger beer and stir. Garnish with mint sprig and lime slice.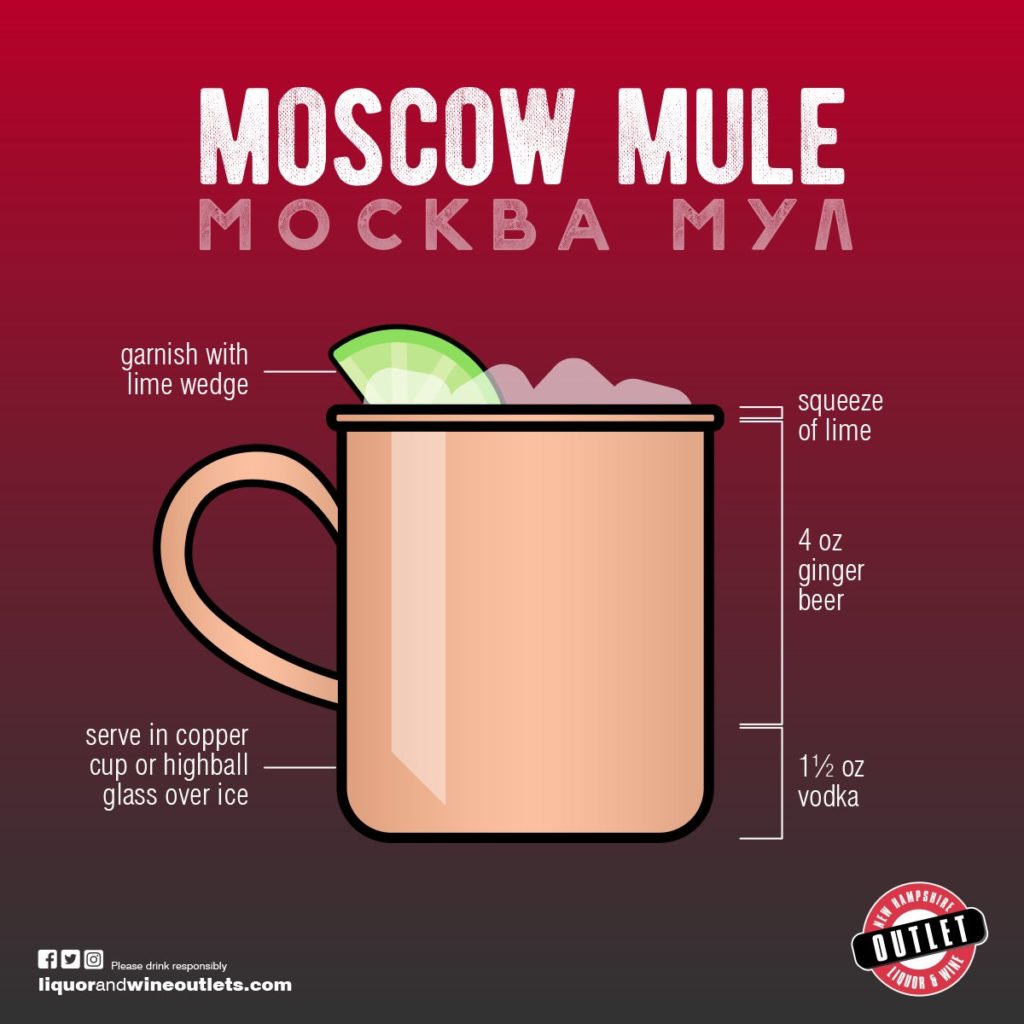 This is one zippy refreshment, year-round!
And it's history is a hoot — from Moscow to Los Angeles. The story of the Moscow Mule begins in 1939 when a nearly broke Russian ex-pat, Rudolph Kunett, sold the Smirnoff brand to John Martin, head of G.F. Heublein & Bros.
Now, Martin long claimed that he invented the Moscow Mule along with his friend, Jack Morgan, owner of the old-English style pub named the Cock'n'Bull, located on Hollywood's Sunset Strip.  The Cock'n'Bull had a house brand of ginger beer bottled in stoneware crocks.
Martin and Moran claimed that a fit of "inventive genius" led them to combine their respective products. More than likely, ahem, is the story told by Morgan's head bartender, Wes Price, who maintained that the drink was fashioned sometime in 1941 in an effort to offload otherwise unsellable goods.
Martin and Morgan ordered specially engraved copper mugs and Martin set off to market the drink in the bars around the country. He bought one of the first Polaroid cameras and asked barmen to pose with a Moscow Mule copper mug and a bottle of Smirnoff vodka. Then he would leave one copy of the photo at the bar and take a second copy to the bar next door to show them that their competitors were selling Moscow Mules. The marketing took off.
The drink was a special favorite with the Hollywood crowd. Then its popularity faded in the 1960s with the era of the groovy new disco scene and the initiative by the Smirnoff marketing department to re-name the drink the "Smirnoff Mule."
However, the Moscow Mule has recently enjoyed a resurgence, and you can enjoy this fantastic vintage cocktail at home with family and friends.
We have over 350 different vodkas to help you create your perfect Moscow Mule and other vodka cocktails.
Check out our wide selection here.