Mark Roy, Spirit Marketing Specialist.
For this week's Insider Tip, I would like to talk about the 3rd Annual Distiller's Showcase of Premium Spirits:
It's hard to believe we are winding down with this incredible Summer and looking to Fall and the upcoming Holidays creeping around the corner, but don't get down about the end of Summer, get excited about the start of Fall. You may be asking yourself, "Why should I get excited about Fall"? Well because Fall will include beautiful warm days and cool nights, wonderful views of vibrantly colored landscapes, and Fall includes the 3rd Annual Distiller's Showcase of Premium Spirits!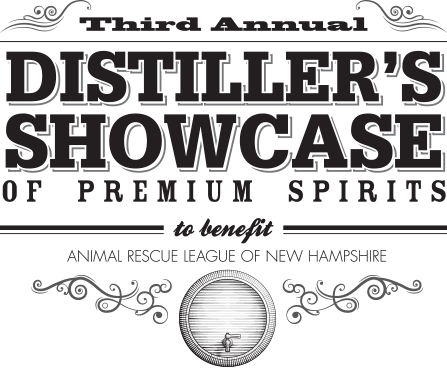 Still in its infancy, only in its third year, this event has grown bigger and better with each passing year. Again this year, the NH Liquor & Wine Outlets gladly partners with our charity beneficiaries from the Animal Rescue League of NH to bring you some of the best premium spirits from around the world. Not only will you be able to responsibly try some incredible spirits, but we also offer a variety of food samplings from some of best local restaurants as well.
At last year's event in 2014 some of the food was provided by such great restaurant partners as Bedford Village Inn, Canoe, Ignite, Comman Man Restaurants, The Quill from SNHU, and Hanover Street Chophouse, among many others.
Not only can you try some premium spirit products, but you can shake hands and converse with some of the biggest names in the spirits industry like Alasdair Day Owner/Distiller of Tweedale Scotch, Megan Breier-Brand Ambassador for Jim Beam, Philip Pepperdine Ambassador for Bowmore Scotch, Aaron Rodonis-Ambassador from Grey Goose, and Chris Fletcher the Assistant Master Distiller from Jack Daniels, who also conducted a 30 minute seminar about Jack Daniels Tennessee whiskies. We hope these, and many new industry VIP's will be at this year's event to speak with you and guide you through some new spirit tastings.
Last year along with some informative educational seminars, that are taking place at varying times during the event, we featured world renowned mixologist Elayne Duff, from the hit series Bar Rescue, who enthusiastically demonstrated and tasted onlookers on how to make some incredible cocktails at home.
We at the NH Liquor & Wine Outlets and the Animal Rescue League of NH certainly want you to come and enjoy this event and all it has to offer, but our number one goal is for you to do it responsibly. That is why we are happy to offer you some options to help ensure you enjoy the evening responsibly. Through our partnership with the Radisson Hotel we have set up a Sip-N-Stay package which can include a room, a room with a reduced ticket price to the event, or a room and two tickets at a reduced price to the event. Can't stay for the night, well thanks to our friends at Grace Limousines and Brown-Forman Corp. we offer a free ride home program that night. Grace Limousines will have a number of cars located just outside the doors of the Radisson to gladly take you to your destination safely. Please look for signage throughout the venue to direct you to the car's location.
Not a big spirits enthusiast? Well we also offer many non-alcohol options thanks to our friends from Pepsi. Also throughout the event we will conduct a silent auction for you to have a chance to bid on and win some one-of-kind items, from gift baskets or golf bags to autographed memorabilia. We will also conduct short live auctions at select times during the event to auction off some other very limited items (maybe some Pappy 23 year old who knows?).
This year's showcase will take place in the Grand Ballroom and Armory at the Radisson Hotel on Elm St. in Manchester on Thursday November 12th from 6pm-8:30pm. Tickets are limited so please don't wait.
For more information on this exploration of spirits charity event visit distillersshowcase.com or purchase your tickets here. For all other inquiries please contact your local NH Liquor & Wine Outlet or visit us at Liquorandwineoutlets.com