Welcome to the third post in a series of blog posts highlighting some great NH-made products! In honor of our Keep It Local sale, we're taking you on a virtual tour of some of NH's wineries and distilleries, focusing on the Seacoast!
Sweet Baby Vineyard:
Located in Hampstead, New Hampshire is a gem of a find called Sweet Baby Vineyard. Their award-winning fruit and grape wines are 100% NH-Grown from single source farms, grown right on their property.
In business for 13 years, farming has been a family affair for generations for Stacey Eaton. She feels lucky to live in a state with an abundance of local farms to acquire quality fruit and even grow her own! Sweet Baby Vineyard offers up to 26 varieties of red, white, fruit, and sparkling wines to taste that range from dry to sweet.
The vineyard is open year-round Thursday and Friday from 12-4 pm and Saturday and Sunday from 12-5 pm. Check out their indoor tasting room and enjoy a wine tasting, wine by the glass, or a wine flight! You can reserve a table online for either indoors or outdoors on their beautiful farm.
Can't make it to Sweet Baby this summer? Lewis joined us as part of a virtual panel discussion, watch the replay here.
Flag Hill Distillery and Winery:
Situated in beautiful Lee, New Hampshire, is a farm distillery and winery that hosts self-guided walking tours and fun public events, including brunch and Chef Table Dinners.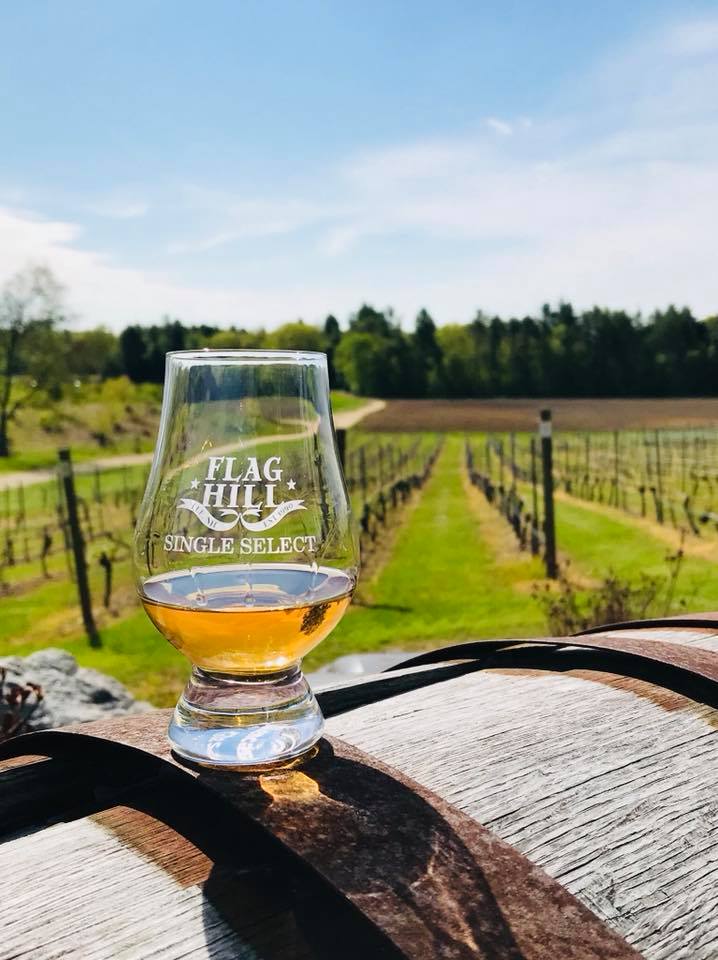 Brian Ferguson spent the majority of his life in the industry, starting at Finger Lakes Distilling in upstate New York. There, he learned how to craft spirits working beside Master Distiller Thomas McKenzie, where his passion for whiskey-making began. In 2013, he relocated to New Hampshire with his wife Maddie and took on the role of Head Distiller at Flag Hill, purchasing the company a couple of years later.
Flag Hill sits on a 110-acre conservation easement that switched from a dairy farm to a vineyard when the first vines were planted in 1987. Their first harvest came in 1990 and thus the winery began. In 2004, Flag Hill added its distillery making it the first distillery in the state of New Hampshire since the end of Prohibition. Flag Hill is open 7 days a week from 11-5, except for 4 holidays: Easter, Thanksgiving, Christmas Day, and New Year's Day.
Can't make it to Flag Hill this summer? Brian joined us as part of a virtual panel discussion, watch the replay here.
Through June 27, we're offering 20% off the purchase of 3 or more bottles of NH Wine and Spirits, mixed or matched, and any sizes! Visit one of our stores today to find your new favorite.
Next stop, Western, NH! We'll be back tomorrow with 2 more local brands! Stay connected with New Hampshire Liquor & Wine Outlet's The Tasting Room and our entire Keep It Local series while you enjoy these seacoast wineries.