Salem's Fabrizia Spirits and Sweet Baby Vineyard of East Kingston recognized alongside national wineries and spirit companies 
With honorees characterized by a combination of outstanding sales, superior leadership and community support, the New Hampshire Liquor Commission(NHLC) recently paid tribute to its 2014 Wine & Spirits award winners Thursday, April 9, at the Capitol Center for the Arts in Concord, honoring the top winery, distillery, wine, spirit and business partner. For the first time this year, NHLC also honored the top New Hampshire spirit and wine.
NHLC's annual Wine & Spirits Awards celebrate the achievements of the products and suppliers who have demonstrated incredible sales, exceptional leadership and a commitment to the New Hampshire market. Sweet Baby Vineyard in East Kingston was honored as the top New Hampshire wine and Fabrizia Spirits in Salem was recognized as the New Hampshire spirit of the year. The following national brands were also recognized:
Winery of the Year – Josh Cellars
Wine of the Year – Mionetto Prosecco Brut
Spirit of the Year – Ciroc Pineapple Vodka
Distillery of the Year – Jack Daniel Distillery
Sean Owen, owner of NHLC's marketing and advertising firm wedu, was honored as NHLC's Business Partner of the Year, in recognition of his achievements and efforts that went above and beyond.
"Having set an all-time sales record in Fiscal Year 2014 with $626 million in total sales, NHLC is always striving to push our sales potential, and the strong relationships we have developed with our business partners are integral to NHLC exceeding our sales goals," said NHLC Chairman Joseph W. Mollica. "With our annual Wine and Spirits Awards, we have the chance to highlight specific companies and brands that have achieved incredible success during the past year by relying on innovation, great products and a customer-centered approach. We are proud to offer all of these award-winning products at our 78 New Hampshire Liquor & Wine Outlets across the state."
Through hard work and dedication, Fabrizia Spirits grew from a small New Hampshire startup company to a 16-state distribution footprint in just three years. Fabrizia has also expanded its product offerings: the company offers its Limoncello in both 750-ml and 375-ml options, as well as its Blood Orange in the 750-ml size. Fabrizia experienced a 20% increase in bottles sold in New Hampshire in Fiscal Year 2014, compared to Fiscal Year 2013. Additionally, as it has done for each of the past five years, Fabrizia partnered with NHLC to raise money for Homes for Our Troops, a nonprofit organization that builds adaptive homes for veterans with life-altering injuries. Last year, the effort raised more than $5,600 to support the construction of a new home in Hopkinton for Army Staff Sergeant Matthew DeWitt. This charitable effort has generated more than $19,000 for Homes for Our Troops in the past five years.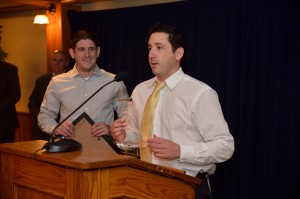 "We are incredibly proud to be honored by the New Hampshire Liquor Commission, which has been tremendously supportive of Fabrizia Spirits since we first began producing Fabrizia Limoncello in 2009," said Fabrizia Spirits Owner Phil Mastroianni. "NHLC never hesitated to provide the guidance and support we needed to turn our dream into a reality. With NHLC's continued support, combined with our commitment to making the highest quality limoncello, Fabrizia Spirits experienced a 27% increase in overall bottle sales in Fiscal Year 2014 and we're hoping to do the same this year."
East Kingston's Sweet Baby Vineyard experienced skyrocketing sales following its participation in NHLC's rack program, an innovative attempt to showcase local wines in prominent displays at NH Liquor & Wine Outlets. In just one fiscal year, Sweet Baby Vineyard made huge strides, jumping from about sixth in sales among New Hampshire wineries all the way to second. With overall sales growth approaching 42% percent for the year, Sweet Baby Vineyard surpassed sales growth by all other New Hampshire wineries. The winery also introduced a number of new wines during the past year.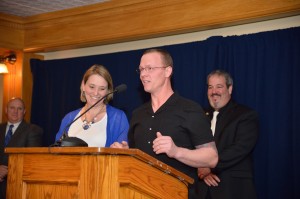 "Sweet Baby Vineyard is extremely pleased and honored to be recognized by NHLC. NHLC's rack and point-of-sale program has had a tremendous impact on our sales," said Sweet Baby Vineyard winemaker and owner Lewis Eaton, who was recently named president of the New Hampshire Winery Association. "With support from NHLC, we continue to break our own sales records each year. In 2013, we sold a record 2,600 cases. In 2014, we sold 3,600 cases, and we are projecting that we will sell 5,000 cases in 2015."
Enjoying Prosecco's considerable popularity in New Hampshire and in the U.S. in general, Mionetto Prosecco Brut experienced a 61.6% increase in New Hampshire sales—an increase of 42,739 bottles sold during this past year. Mionetto made a concerted effort to work together with NHLC to ensure its pricing was as competitive as possible, while also allowing NHLC to showcase Mionetto's Prosecco Brut within a group of champagnes and sparkling wines during key months to provide one-stop shopping for customers. That effort paid off, particularly during the holiday season. In addition, Mionetto partnered with NHLC to take part in NHLC's Price Buster's program, which features choice wine and spirits at substantial discounts.
"We are pleased to recognize these outstanding winners, who have all demonstrated incredible sales growth and a commitment to the New Hampshire market," said Nicole Brassard Jordan, NHLC wine marketing specialist. "Each of the winners, national and local, have achieved extraordinary sales through strategic partnerships with NHLC designed to deliver the best products and the most competitive pricing to New Hampshire customers."
With an 80.8% sales increase from Fiscal Year 2013 to Fiscal Year 2014, Josh Cellars saw New Hampshire sales take off with 81,627 more bottles sold in Fiscal Year 2014 compared to the previous fiscal year. While famed winemaker/founder Joseph Carr no longer owns the Josh Cellars brand, he continues to be its lead consultant and brand ambassador and, given New Hampshire's substantial stake in the wine industry, Carr visits the Granite State on a regular basis. Carr's accessibility, particularly during New Hampshire Wine Week, has had a noteworthy impact on sales in New Hampshire, Brassard Jordan said.
"As a family-owned company with New England roots, we are extremely proud to be honored by the NH Liquor Commission. Josh Cellars started as a tribute to my father and New Hampshire was one of the first markets where our wines were released," Joseph Carr said. "Along with participating in a number of NHLC events, we continue to work closely with NHLC to make sure New Hampshire customers have access to our wines at the best prices. New Hampshire has been an amazing place for us—it is incredible to think that 10 years ago we were just introducing our wines to New Hampshire customers, and today, when I visit NH Liquor & Wine Outlets, people actually come up to me to say hello because they recognize me as a winemaker."
Ciroc continues to make a major impact in New Hampshire with its flavored vodkas, with the Ciroc Pineapple Vodka making an immediate and extraordinary introduction to the New Hampshire market. Upon entering New Hampshire's test market, Ciroc Pineapple Vodka took just five days to reach full distribution, breaking the all-time record of 21 days between entering the test market and reaching full distribution. NH Liquor & Wine Outlets sold nearly $235,000 worth of Ciroc Pineapple Vodka in its first four months in stores. Ciroc is following its own lead in this category, as last year, Ciroc Amaretto Vodka took home top honors.
"That it took just five days for Ciroc Pineapple Vodka to move from New Hampshire's test market all the way to full distribution is remarkable— and since then we are constantly refiling the shelves due to customer demand," said Mark Roy, NHLC spirits marketing specialist. "Along with experiencing considerable sales growth across the board in New Hampshire, the Jack Daniel Distillery has also recognized the benefit of aligning with NHLC on a number of initiatives aimed at making a difference in local communities here in New Hampshire."
Along with showcasing unique new offerings, including Sinatra Select, its Master Distiller series, and its holiday series, the Jack Daniel Distillery has worked with NHLC on a number of efforts, including as co-sponsor of the Safe Ride Home program during this past fall's Distiller's Showcase of Premium Spirits. Jack Daniel's also conducted training seminars designed to educate NH Liquor & Wine Outlet employees. Jack Daniel's launched the popular Tennessee Fire in select markets last year, and the famed distillery also paved the way for NHLC's barrel buy program, allowing NHLC to purchase individual, select barrels of choice single barrel whisky's, providing NH Liquor & Wine Outlet customers with high-end whisky's that are entirely unique to the New Hampshire market. The distillery's efforts paid off, as Jack Daniel's experienced sales growth of more than 7% in New Hampshire during 2014, compared to the previous year.
"We are delighted to be chosen Distillery of the Year by the NH Liquor Commission," said Marc Satterthwaite, Vice President of Director Sales Operations with Brown-Forman Corporation, which owns Jack Daniel's. "It is a great honor to be selected and we are extremely grateful to receive the recognition from NHLC."
Wedu, a digital and experiential marketing agency with offices in Manchester and New York, made a tremendous impact for NHLC in a number of areas in 2014, including growing NHLC's social media presence through coordinated posts, creative and interactive promotions and enhanced branding. In December 2013, NHLC's Facebook page had more than 22,000 "likes," but with wedu's targeted customer engagement efforts, which featured a number of enticing videos, including videos centered on summer grilling and whiskey tasting, that figure increased by nearly 90% by December 2014 to more than 42,000 likes.
Under Owen's guidance, Wedu was instrumental in creating a NHLC "March Madness" Facebook competition pitting eight spirits against eight wines, with customers voting for the winners in a bracket-style "tournament." Wedu also increased NHLC's email subscriber list by more than 18% or 19,000 emails, while at the same time removing scores of outdated emails. This list is now in excess of 130,000 subscribers. In addition, wedu worked closely with NHLC to develop a number of employee training opportunities, as well as a state-of-the-art ordering application allowing customers to purchase wines and spirits from their mobile devices during NHLC events.