There are fans of classic Irish whiskey and there are those who love nothing better than a pint of authentic Irish stout. If deciding between one or the other is a difficult task, rest easy – Jameson has crafted the perfect solution.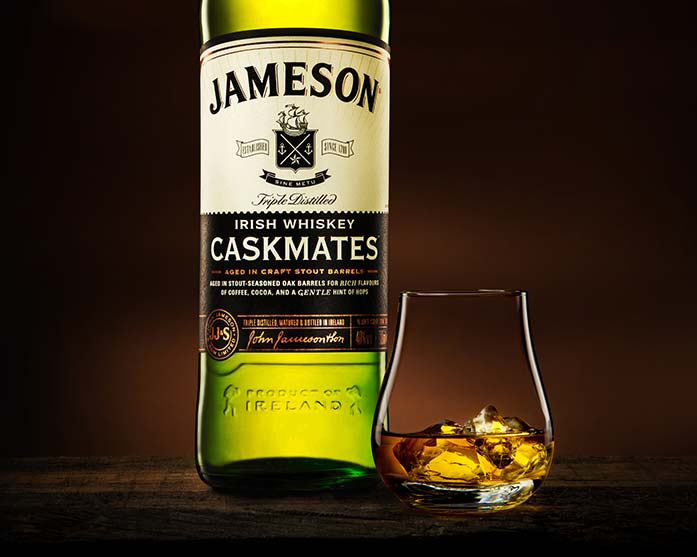 A timely combination of curiosity and collaboration has led the well-respected Irish distiller to create Jameson Cask Mates – an inspired blending of classic whiskey and the instantly-identifiable flavors of an authentic Irish stout. The unique flavor comes about after classic Jameson Irish Whiskey is aged for up to six months in stout beer barrels. The innovation has resulted in a completely new character – which, according to Jameson Community Manager Ciaran O'Donovan, was warmly received during its initial release in its homeland.
"It went down a storm," O'Donovan says with typical Irish aplomb. "It's never been done with Irish whiskey, and I can't think of any that's been aged in stout or beer barrels before."
Here's how it works: Used Jameson barrels from its Midleton Distillery in County Cork are sent to the nearby Franciscan Well Brewery; Franciscan Well's craft beer is matured in the Jameson barrels for up to six months, resulting in a unique Jameson-inspired beer; the barrels are then returned to Midleton Distillery and reused to finish classic Jameson Irish Whiskey; the resulting whiskey takes on a completely unique flavor, imparting rich stout characteristics of coffee, cocoa and a gentle hint of hops.
"It changes the finish of the whiskey," O'Donovan says. "It adds a coffee and chocolate flavor. Stout is usually kind of coffee-flavored and sometimes roasted bread-flavored. The Franciscan Stout, in particular, is very chocolatey. It really changes the drink."
Of course, the inspiration for Jameson Cask Mates didn't just appear out of thin air, and since it's said that having the ability to tell a good story is part of being Irish, the tale of how Cask Mates came to be is best related by O'Donovan: "It's a new innovation that came about by accident, almost," O'Donovan says. "A few years ago, our Master of Whiskey Sciences, Dave Quinn, had a brewer friend who asked for some barrels to age some beer in." The beer, Franciscan Well Jameson Stout, was brewed in Cork City, Ireland, not far from the distiller's own Jameson Experience location. The resulting brew, the direct beneficiary of the relationship between Jameson's Quinn and Shane Long, the master brewer of Cork City's Franciscan Well brewery, was a multi-award winning hit. "It worked so well, the guys in the distillery said 'why not try it the other way around?'," O'Donovan says of the inspiration.
It's the magic that comes from the wood that infuses the new flavors, because as Jameson's distillers will say: "without wood, there is no whiskey." Visitors to the Old Midleton Distillery are shown around the cooperage center, where they can learn about techniques and tools that have gone into making Jameson's casks for generations. Visitors may also get a chance to chat with Master Cooper Buckley, known as much for his enthusiastic conversation as he is for his cooperage skills.
A 750mL bottle of Jameson Caskmates is on sale through November, 29th for $29.99