Suna Offers Up New and Old Favorites
Scott Ouellette and Andy Juhasz are a well-oiled hospitality machine. The two are the powerhouse owners of The Magic Foods Group: the company behind O Steaks and Seafood in Laconia and Concord, O Bistro at the Inn on Main in Wolfeboro, and Canoe Tavern in both Bedford and Center Harbor – and now the duo's latest, Suna, at the base of Mount Sunapee. Ouellette and Juhasz have worked together since 2005, serving up dishes like their award-winning Kobe Beef Pops, Prime Meatloaf, and the highly-sought-after lobster macaroni and cheese. Ouellette came from a commercial banking background and Juhasz from the fine dining world. Together, their expertise helped build a restaurant empire, complete with a stand-alone catering company.
With the opening of Suna, the sharp, amiable and creative team decided to capitalize on what they describe as "the high notes" from their locations at Canoe and O Steaks in their expansion to western New Hampshire. A restaurant space on Brook Road (just off of Scenic Route 103) became available in the spring of 2016. With the help of Ouellette's mother and restaurant designer, Sandy Ouellette, the team quickly transformed the space into an upscale bistro. Suna officially opened in July of 2016 to a warm local reception. A visit to this welcoming spot reveals that the dining room has a more formal feel with fireside seating, while the bar has high top tables and a large flat screen television. The entire restaurant is open and light, with scenic sweeping views of Mountainview Lake.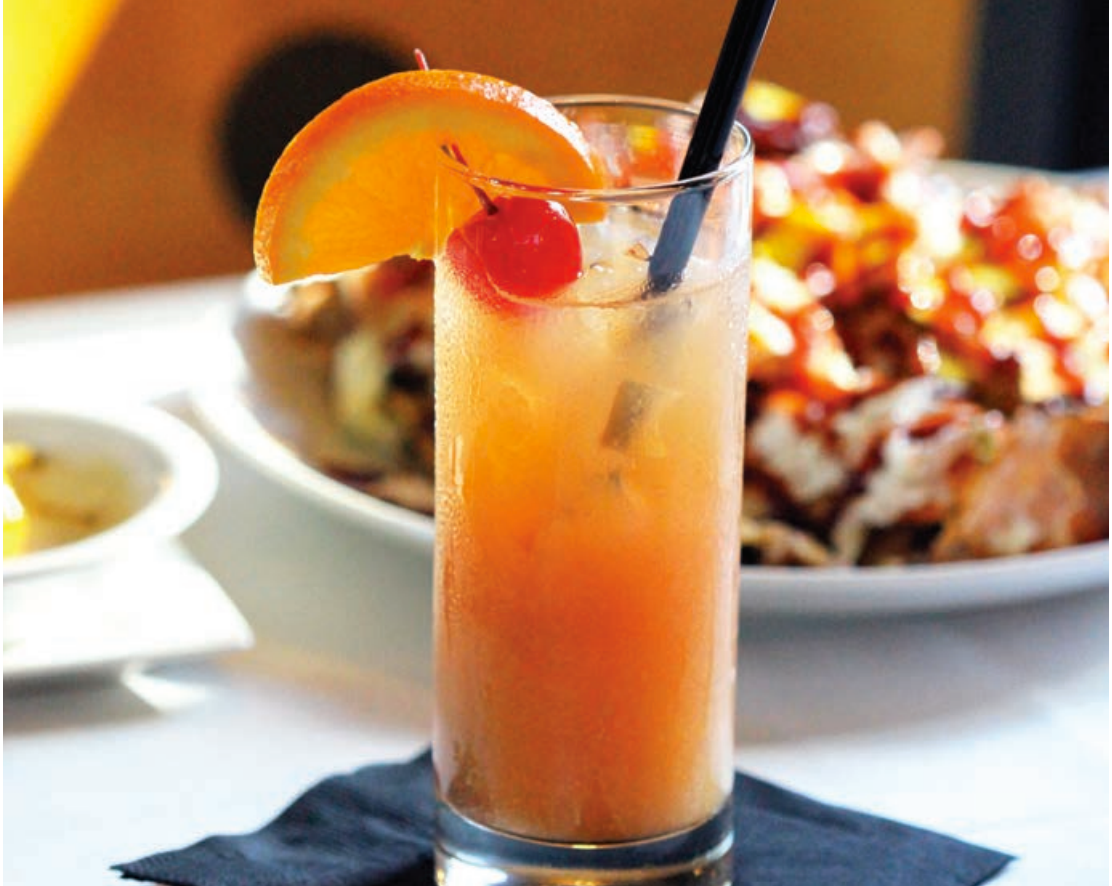 "This area has been known for having or focusing on more pub style restaurants and food," Ouellette says. "There is a good time and place for that, but we wanted something more in Sunapee. We saw a need for Suna. People tell us, 'We love that you have sit-down dining here.' and we know we have hit on something good." Suna is open year-round, catering to summer tourists and skiers alike. "There are things that we are known for and we wanted to expand to this side of the state," Juhasz says. "Our steaks and seafood are really approachable and we make food that people love. We want people to feel like they can come here and enjoy a well-made dish – whether it's a plate of our house-crafted nachos, our BBQ, or our prime churrasco steak. We have it all." The growth of Magic Foods sprang from what Ouellette describes as, "A corporate structure without the corporate attitude." "We have a system here that supports our staff as well as good business," he says. "Most members of our team have been with us for over a decade. We give them the freedom and support to love their jobs, and in turn, it treats us well." The Magic Foods team smokes and cures its own meats at its catering company (affectionately called, 'Rubbin Butts BBQ') and uses the BBQ products in all of the restaurants. Suna's cheekily-named "Rubbin Butts Nachos" have quickly become a favorite. The dish features house-fried potato chips, a creamy white cheddar cheese sauce, cole slaw, and piles of the sweet, smoky and savory pulled pork.
The nachos pair nicely with the menu's zesty and citrusy Acrobat Pinot Gris. The menu has the Magic Food Groups' classics: Kobe beef steaks and meatloaf, sweet and sour calamari, ribs, salmon and its beloved lobster macand cheese. The balanced wine list features glass pours from across the globe, with a heavy lean towards American vintners. The Caymus Conundrum White from California is a popular choice, and matches expertly with the calamari. The hot, sweet, spicy, and crispy rings are a showstopper for The Magic Food Restaurant Group. "We receive accolades from locals on that dish," says Beverage Director Aaron Leyton. "We knew we were on to something delicious, and that white is so nice with it." White wines like the Emmolo Sauvignon Blanc from Napa Valley with its steely, floral and crisp notes stand up to house crab and corn bisque and Asianstyle Ahi tuna. The J. Lohr Estates Riverstone Chardonnay is one of the group's most popular wines. Its pear, toast and mineral qualities are delicious all on their own or paired with the lobster macaroni and cheese. No red pour is more popular than the house O'Pinot: a fruit-forward and food-friendly varietal made especially for the restaurant group. "We like to showcase rich and fruity flavors as a match with our steaks," says Leyton. Ouellette describes the success of the O'Pinot as "very uplifting to us." When they started bottling in 2010, the team blended enough wine for 50 cases. This season, the team will blend and bottle more than 240 cases of the wine. The wine is consistently served at the restaurants in Pinot Noir glasses that have a large bowl and curved lip. "It is the one wine that really tastes just right when it is in its specialized glass," Ouellette says. All of the reds on Suna's wine list feature bold flavors. Patrons can choose from varietals like The Ruta 22 Malbec from Argentina or the Cline Ancient Vines Zinfandel. The Malbec is robust with cherry, mocha and smoky accents. The Zinfandel has spice, raspberry and blackberry notes: both make a beautiful match with Suna's Kobe meatloaf and tenderloin tips. The bar serves up signature drinks that feature classics with a house twist and the team's interest in Barbadosstyle rum. Sippers can choose from The Ultimate Cosmo, featuring Grey Goose L'Orange and Citron with a splash of cranberry juice, or the O'Cosmo that swaps-in a dark, Black Barrel Rum from Mount Gay. A steakhouse staple, the Manhattan, is the epitome of the team's style: Woodford's Reserve Bourbon is mixed with bitters, Fonseca Ruby Port and Luxardo candied cherries. The cocktail's flavors are rich, deep and full of smoky caramel notes. "This location is so gorgeous," says Leyton. "We are so happy that Suna is attracting new customers to the company. They keep telling us that it's such a nice change for them." Leyton has been with the company for more than three years and works directly with Ouellette and Juhasz on the signature beverage and happy hour programs. "I love sharing the flavors like the O'Pinot and the Mount Gay rum. They both are so good and people really enjoy it. We love that people have made us their go-to spot and we look forward to seeing what's to come."