Halloween is coming up and in case you'd like to sink your teeth into something more than candy on the spookiest of evenings, we've got a few recipes for you. Mix up one for yourself, or, even better, invite your ghoul-friends over for a get-together!
Candy Corn Martini
This recipe can make a single drink or it can be scaled to make a punch (try adding orange sorbet to a punch!)
1 part candy corn-infused vodka*
2 parts pineapple juice
Candy corn for garnish (optional)
Put ice in a shaker and add candy corn vodka and pineapple juice. Shake vigorously, then strain into a martini glass. Add candy corn garnish.
* Candy corn-infused vodka: Put one part candy corn and one part vodka in a container with a tight-fitting lid. Shake, then put in the refrigerator for 4 hours. After 4 hours, pour the mixture through a strainer to get the candy pieces out.
Rotten Pumpkin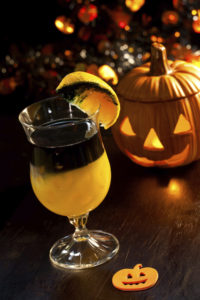 6 oz. Orange juice
4 oz. Black vodka*
Pour orange juice into a glass and top with vodka.
* Use black food coloring or mix red & green food coloring to color the vodka.
Witches Brew
1 oz. Vodka
1 oz. Triple Sec
1 oz. Blue Curacao
Juice of one lime
Black sugar for coating the glass
Pour equal portions of the alcohol into a shaker over cracked ice. Shake, then strain into a chilled martini glass that has been rimmed with black sugar.
Green Goblin
1 oz. Midori
2 oz. Gin
Tonic water
Rim the glass with blood slime*
Fill a tall glass with ice and then pour in the first two ingredients. Top off with tonic water.
* Blood slime rim: Take 3T corn syrup and ½t red food coloring and mix together. Dip the rim of glass into the mixture, and slowly spin to coat. Turn glass upright; the "blood" will begin to drip down the sides of the glass.
Vampire's Kiss
2 oz. Raspberry vodka
2 oz. Chambord raspberry liqueur
3 oz. Cranberry juice
Put all ingredients in a cocktail shaker with ice and shake vigorously. Strain into martini glass.
Got any other great Halloween recipes? Share them on our Facebook page!