Adding a candy cane to a cup of cocoa might be festive but these 10 cocktails go outside the box and will be sure to add a little spice to your next holiday party. With these simple and delicious recipes in your arsenal, you won't have to worry about any full-blown, four-alarm holiday emergencies when it comes to your drink menu.
Smitten Kitchen Rum Campari Punch
Deb Perelman from Smitten Kitchen has knocked it out of the park with this crowd pleasing rum punch. Rum, Campari and sparkling wine – what's not to love? Plus the recipe makes about 30 servings, perfect for a larger holiday gathering!
Punch
1 1/4 cups sugar
1 1/4 cups cold water
1 1/4 cups lime juice
3 3/4 cups pineapple juice
1 3/4 cups Campari (or less, to taste)
1 750 ml (about 3 1/4 cups) bottle dark rum
1 750 ml (about 3 1/4 cups) bottle sparkling wine
Garnish
1 giant ice cube
1 orange, sliced thin
1 lime, sliced thin
or thick peels of zest from 1 lime and 1 orange
Learn how to mix this on the Smitten Kitchen blog.
Beery Bloody Mary
Who says bloody Mary's are best served at brunch? And who says they should only contain vodka? This version that features both beer and vodka would be perfect morning, noon or night. To make this drink extra festive use a slice of star fruit to garnish the top of your glasses.
Beery Bloody Mary
3 12 ounce bottles chilled lager beer
4 cups chilled tomato juice
3 ounces chilled vodka
Juice of 1/2 lemon
3/4 teaspoon celery salt
Hot sauce to taste
Garnish
Lemon and Lime Slices
Hot sauce
Celery Sticks
Spanish olives
Star fruit slices
View the full recipe on the Rachel Ray website.
Crockpot Pumpkin Toddy
Are you looking for a delicious drink that you don't have to shake, stir or pour? This crockpot pumpkin toddy lets you sit back and enjoy your guests while they serve themselves this warm treat.
Pumpkin Toddy
5 cups water
½ cup pure maple syrup
1/3 cup canned pumpkin
1 cup rye whiskey or bourbon
½ cup cinnamon schnapps
Garnish
Whipped cream
Pumpkin pie spice for the glass rims
Cinnamon sticks
This recipe was adapted from the Better Homes and Gardens website. You can view the original recipe and directions on their website.
Baileys Glamour Shot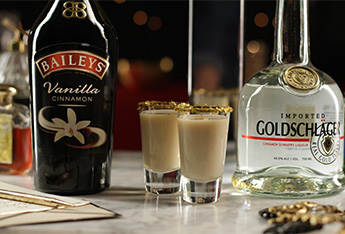 A little Baileys Vanilla Cinnamon and a dash of Goldschlager make the 'Glamour Shot' a warming shot. Rim with cinnamon if you don't have any edible gold flakes in your home bar.
Baileys Glamour Shot
1 oz.
Baileys® Vanilla Cinnamon
0.5 oz.
Goldschlager® Cinnamon Schnapps Liqueur
1 dash(es) edible gold flakes
Visit The Bar website for full instructions.
St. Germain Cocktail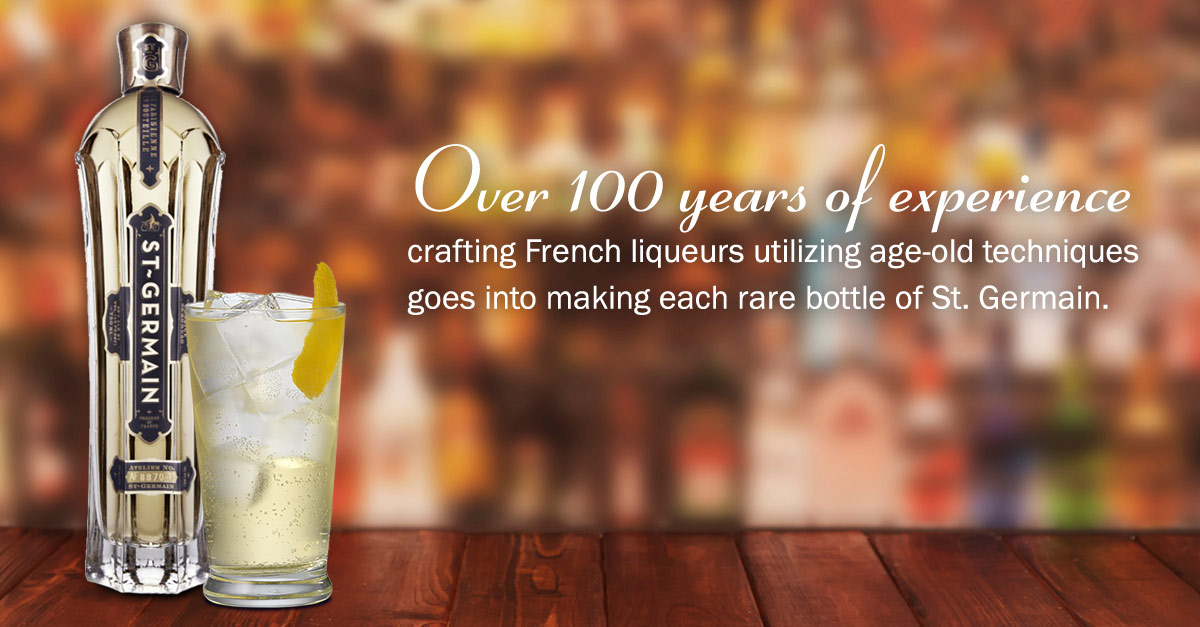 Begin your holiday feast with the classic St. Germain aperitif. The aperitif's purpose is to stimulate one's appetite and prepare for the inevitable joys to come and a signature St. Germain cocktail will do just that!
Signature St. Germain cocktail
2 parts M&R Prosecco
1.5 parts St Germain
2 parts Club Soda
You can view the full recipe on their website.
Crock Pot Mulled Wine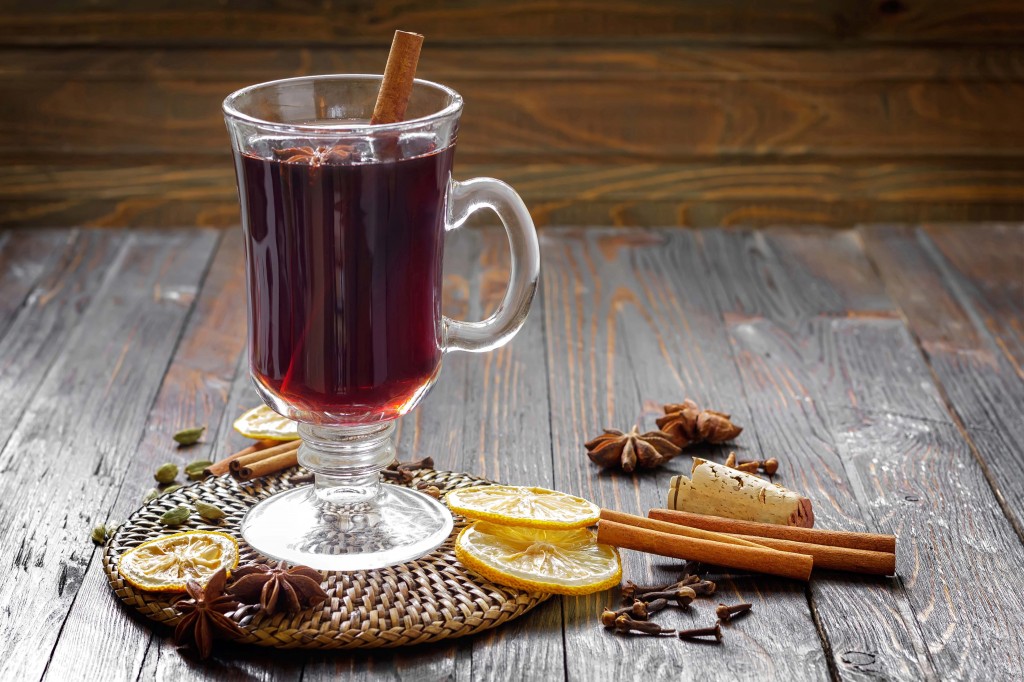 Another simple crowd pleasing beverage, crock pot mulled wine is simple to make and quickly serves a large group.
Mulled Wine
4 cups apple cider
1 (750-ml) bottle of red wine
¼ cup honey
2 cinnamon sticks
1 orange, zested and juiced
4 whole cloves
3 star anise
Garnish
Orange peel
Cinnamon sticks
Apple slices
To make this festive drink, we adapted Ina Garten's mulled wine recipe to be crock pot friendly. You can view the original recipe and directions at Foodnetwork.com.
Sangria Bar
For the host or hostess who likes to give their guests a wide variety of options, a sangria bar might be right up your alley this holiday season.
Sangria Bar Suggested Items
2 bottles (750-ml) of red and/or white wine
Triple Sec
A variety of fruits (Apples, peaches, strawberries, raspberries, oranges, pineapple)
A few mixer options (club soda, ginger ale, tonic water, sparkling wine, lemon-lime soda)
Garnish
Fresh Sprigs of Mint
Lime wedges
Lemon wedges
Instruct your guests to add their favorite fruits to a glass, pour about an ounce of triple sec over fruit and lightly macerate with a spoon. Add preferred wine, mixer if using and garnish. 2 bottles of wine will make about 15 servings of sangria.
Claret Cobbler
If you're a Downton Abbey fan, you know Bordeaux wine as Claret and what better way to celebrate the holiday season than Downton style? This simple cocktail is sweet and rich and sure to please even the pickiest wine lover (Dame Nellie anyone?).
Claret Cobbler
3 oz claret
1/3 oz triple sec
2 oz soda water
1/4 oz sugar syrup
This recipe from DrinkMixer.com can be found here. The site even lets you input how many servings you want to make which will make serving a crowd all the easier!
Kim In The Dusk
This cocktail featuring Kim Crawford Sauvignon Blanc is vibrant thanks to its ginger elixir and freshly squeezed lemon juice. If you are looking to serve something a little flashier and outside the box, Kim in the dusk is a great option.
Kim In The Dusk
1 oz Kim Crawford Sauvignon Blanc
1 oz pisco
1 1/2 oz unfiltered apple juice
3/4 oz Ginger Elixir (See instructions on the Kim Crawford website.)
1/2 oz freshly squeezed lemon juice
3 dashes angostura bitters
Garnish
Thinly sliced apple wedges
You can find this and other recipes using Kim Crawford wine's on the recipes section of their website.
Moscatini
Perfect for your guests who are wine lovers, martini lovers or just looking for something delicious! The Moscatini features moscato wine, vodka and a lemon twist. Make them up individually or by the pitcher for a crowd.
Moscatini
1 oz. Moscato wine
1 oz. Vodka
Garnish
Lemon Twist
You can find the full recipe and directions on the Sutter Home website. Here's a tip, we prefer ours shaken not stirred.
—
If you make any of these festive drinks this holiday season be sure to tag us in the photos on Facebook and Twitter. Happy Holidays!