Tis' the season for making holiday cocktails! From eggnog to spiced rum, we cover all the season's favorite flavors. Whether you're hosting a party, attending a Yankee Swap, or trimming your tree, there's a seasonal drink on our list that you're sure to love.
The New Hampshire Liquor & Wine Outlets wish you and your family a happy holiday season and remind you to please, drink responsibly.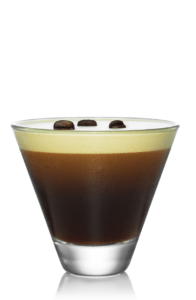 Kahlúa Cold Brew Martini
Kahlúa and coffee go way back, so do Kahlúa and the holidays. Sounds like a match made in martini heaven.
1 part Absolut Vodka
2 parts Kahlúa
3 parts cold brew
Ice
Fill a shaker with ice, add one part Absolut Vodka, two parts Kahlúa, and three parts cold brew. Shake the ingredients for at least ten seconds to create a nice foam. Strain the mixture into a cocktail glass to remove any small ice chips and garnish with coffee beans.
Recipe Courtesy of Kahlúa
---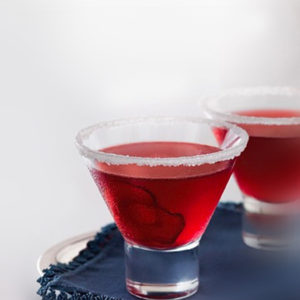 Alpine Berry
Go beyond the turkey, serve your cranberries with Grey Goose this year!
2 parts Grey Goose L'Orange
1 tsp sugar
1 splash soda water
6 – 10 pieces fresh cranberries
2 slices ginger
½ wedge Lemon
In the bottom of a cocktail shaker, place the lemon, sugar, ginger and cranberries, and muddle well. Add ice and Grey Goose L'Orange and shake vigorously. Strain into a chilled martini cocktail glass, rimmed with sugar. Top with chilled soda water, and present with ginger slices.
Recipe Courtesy of Grey Goose
---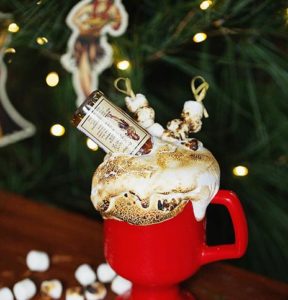 The Sailor Jerry Hot Chocolate
Yo ho, ho, even Santa loves this bottle of rum!
1 part Sailor Jerry Rum
3 parts almond milk
2-3 tablespoons of good-quality, dark, hot chocolate powder
Pinch of sea salt
Heat the milk and then gradually mix with the hot chocolate powder until you've got a smooth rich hot chocolate. Add the Sailor Jerry spiced rum and the pinch of salt and stir. Serve in a tall mug and garnish with chocolate powder and marshmallows
Recipe Courtesy of Sailor Jerry
---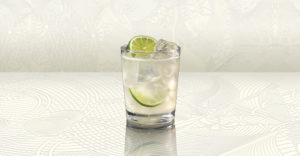 Bombay Mule
Forget making gingerbread men when you can make a ginger beer drink!
1 part Bombay Sapphire
¼ part lime juice
4 parts ginger beer
Build all in a large rocks glass. Stir well with ice squeeze two lime wedges over the drink. Stir briefly and enjoy.
Recipe Courtesy of Bombay Sapphire
---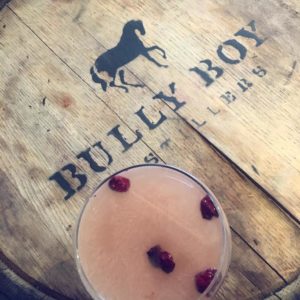 Fenway Flame
Give a toast to the World Series Champions and enjoy this melody of seasonal flavors. For an alternative to a London Dry recipe, try this!
2 ounces Bully Boy Estate Gin
0.75 ounces lime juice
0.75 ounces cranberry simple (equal parts cranberry juice and white sugar)
0.5 ounces Grand Marnier
1 dash Fee Bros. Black Walnut Bitters
Shake with ice, strain up into a coupe glass, garnish with a few cranberries.
Picture from Bobbie H and Recipe Courtesy of Bully Boy
---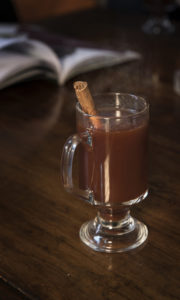 The Handwarmer
Jameson's twist on the most famous of all holiday drinks—mulled wine, spoiler alert, it's much better than the original!
1 bottle of Jameson Original
3 parts pressed apple juice
The zest and juice of 3 lemons
1 jar of date syrup
50g of sliced ginger
3 cinnamon sticks
1 tablespoon of cloves
6 green cardamom pods
3 star anise
Pour the three parts of pressed apple juice into a large cooking pot. Wrap the cinnamon sticks, cloves, cardamom pods, lemon zest, and ginger in a cheese-cloth. Place the spices in the cooking pot with the apple juice on medium heat until it boils. Next, add the date syrup and lemon juice. Add Jameson into a tempered glass and ladle the hot mix as needed.
Recipe Courtesy of Jameson
---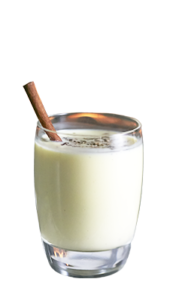 Baileys Egg Nog
The only holiday drink more iconic than eggnog is Baileys, introduce them to each other in this festive drink!
1.25 ounces of Baileys Espresso Crème Liqueur
0.25 ounce of Jameson
3 ounces of milk
1 egg unwhisked (optional)
Add ingredients to a shaker and shake vigorously. Strain into a glass. Add a pinch of nutmeg and a cinnamon stick to garnish.
Recipe Courtesy of Baileys