If you have some extra Easter candy around your house…put it to better use in one of these sweet tooth inspired drinks!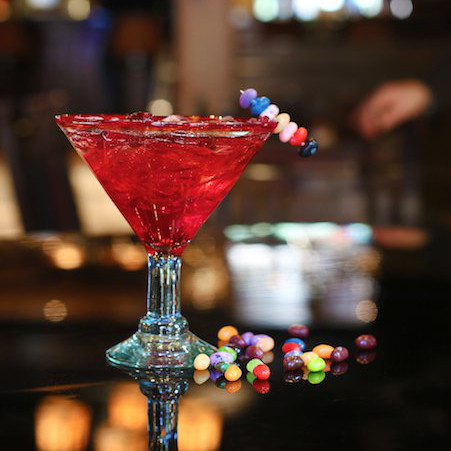 Jelly Bean Martini
2 oz sour apple schnapps
1 oz peach schnapps
1 oz grenadine
Red, white, and blue jelly beans
Combine all ingredients with ice in a cocktail shaker; shake. Pour into a martini glass over ice; garnish with a toothpick threaded with jelly beans.
Recipe and image from Parade.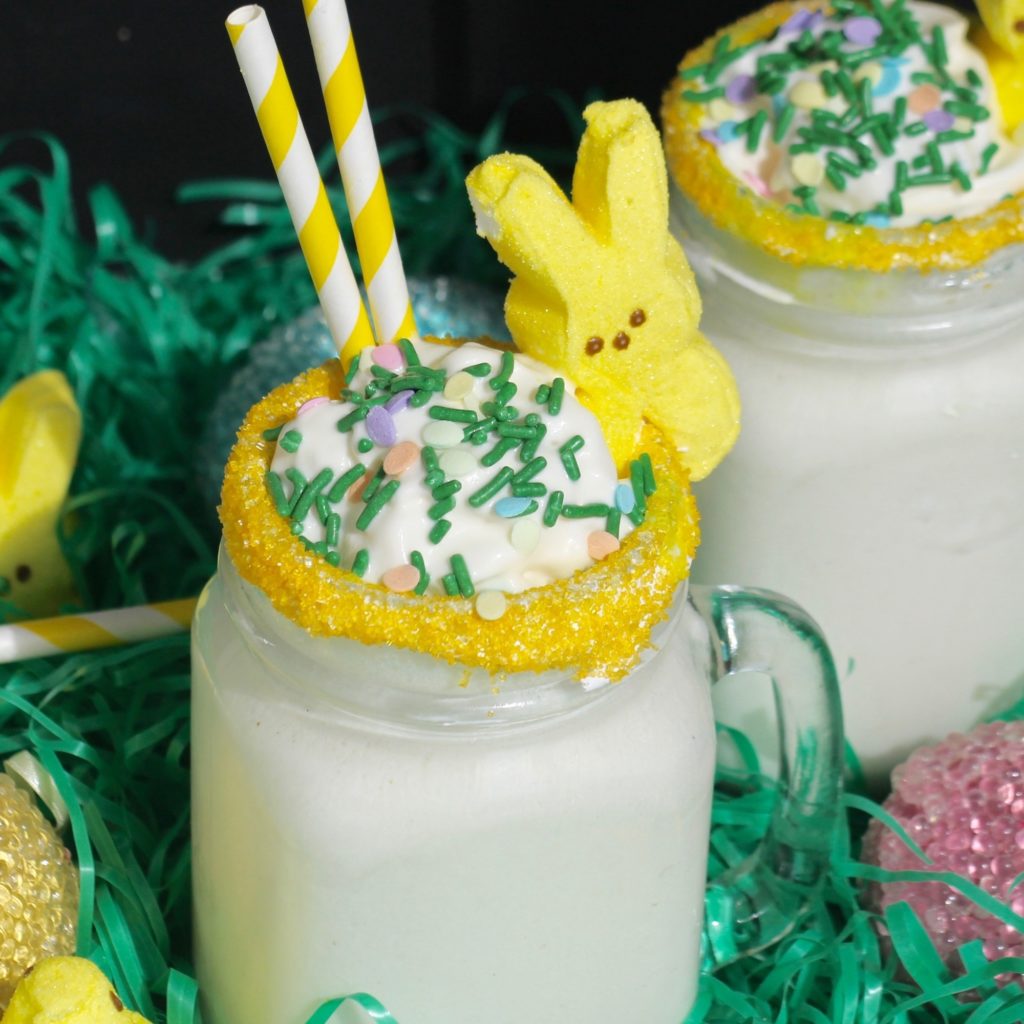 Peeps Milkshake
2 ounces lemon vodka
1.5 ounces Godiva White Chocolate liqueur
1 ounce Rum Chata
1 tablespoon marshmallow fluff creme
1 Peep (chopped)
Vanilla Ice Cream
Sugar for glass rim
Colored Sprinkles
Whipped cream
Peeps (for garnish)
Scoop a large amount of ice cream in a blender. Add liquors plus marshmallow creme and chopped peep. Blend until incorporated and desired thickness. Rim glass with marshmallow creme and roll in colored sugar. Fill glass and garnish with whipped cream, sprinkles and a Peep.
Recipe and image from Giggles, Gobbles, & Gulps.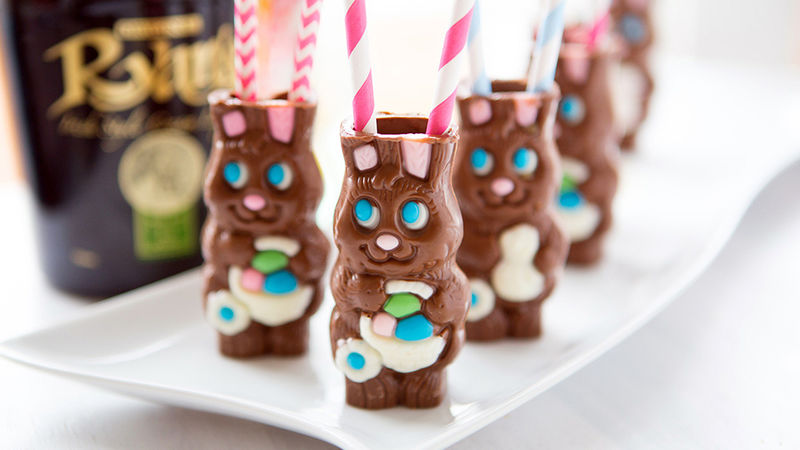 Easter Bunny Cocktail
1 Hollow chocolate bunny
Milk chocolate chips
4 parts chocolate liqueur
4 parts salted caramel vodka
2 parts half & half
1 part hazelnut liqueur
Make your bunny watertight, to do this, plug any holes by melting down chocolate chips in a dry, heatproof bowl and microwaving for 30-second bursts, stirring between each increment. Use a spoon or a piping bag to fill in any holes. Refrigerate the bunny overnight, as well as all cocktail ingredients.
In a large pitcher, combine the chocolate liqueur, vodka, half & half, and hazelnut liqueur. Mix well and set aside.
Gently lay the bunny on its side, and carefully slice off the very top of its ears, leaving a large enough opening to pour in the cocktail. Stand the bunny on a rimmed plate (just in case), give your cocktail another good stir, and pour it into the bunny.
Recipe from Reviewed and image from Tablespoon.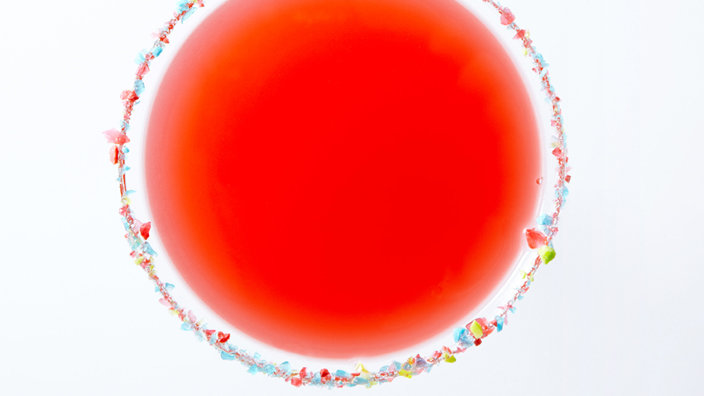 Jolly Rancher Martini
1 oz Jolly Rancher Vodka (see recipe below)
1 oz sour apple mix
1 oz raspberry vodka
3 oz Cranberry juice
1 tsp Fresh lime juice
Jolly Rancher Vodka: For the Jolly Rancher vodka, place 12 candies and 8oz of vodka in a glass jar. Let sit for at least an hour to infuse the vodka.
Rub the rim of a martini glass with corn syrup and dip glass in crushed Jolly Ranchers. Set aside.
Fill a cocktail shaker halfway with ice and add Jolly Rancher vodka, sour apple mix, raspberry vodka, cranberry juice and lime juice. Shake well and strain into prepared glass.
Recipe and image from Liquor.com.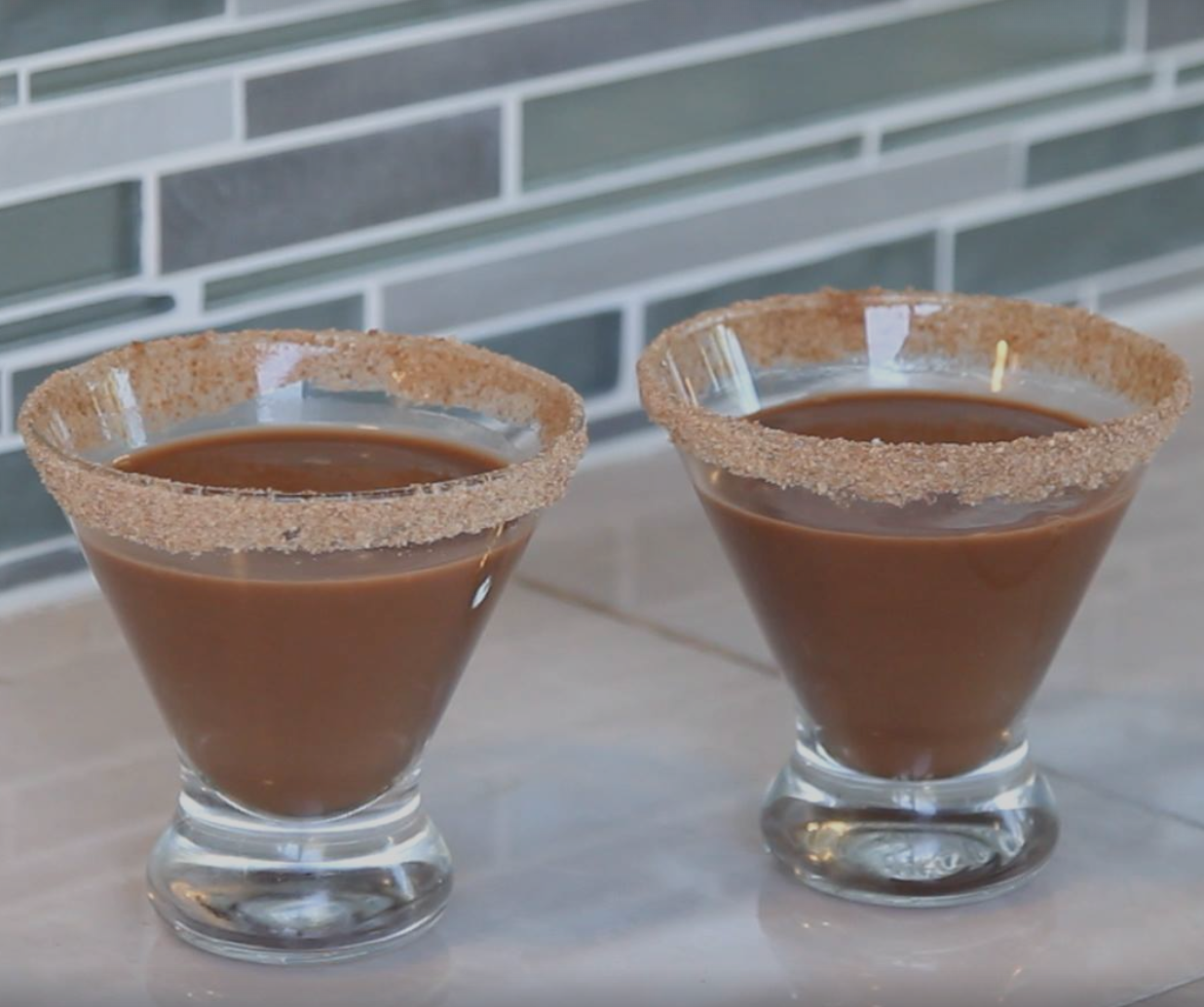 Chocolate Malted Martini
1½ ounces vodka
½ ounce chocolate syrup
½ ounce chocolate malt powder (i.e., Ovaltine)
½ ounce half & half
Simple syrup, for rim
Whopper Malted Milk Balls, crushed, to garnish
Place the malted milk balls in a food processor or blender, and blitz until they become a fine powder. Dip the rim of a cocktail glass in some simple syrup, and then roll the rim in a tray on a plate of the milk ball powder to coat it evenly. Set aside.
In a cocktail shaker filled with ice, combine the vodka, chocolate syrup, and chocolate malt powder, and half and half. Shake vigorously, and strain, straight up, into the milk ball-rimmed glass.
Recipe and image from Thrillest.